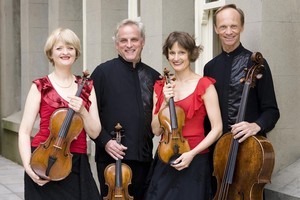 What was your first experience playing "music of the east"?
It was the wonderful Jack Body who first introduced us in the mid '90s to this different "experience", with the first of his own Three Transcriptions, taken directly from a piece played by a musician from the Ye region of China.
You've done Tan Dun's Eight Colours before. Coming back to it, do you see any new colours?
I think the title almost serves as a metaphor for a culture's own unique sense of perspective - that is, the way in which a society's traditional art forms (in this case the Beijing Opera) might affect a student of that society. Returning to it, Tan Dun's piece reveals new treasures and, for the audience, I think it does feel like a miniature Chinese opera.
What is the appeal of the special sound world of Takemitsu?
Here's a sound which has taken in many influences, from James Joyce's Finnegan's Wake to the sensuous style of French impressionism.
And yet there is no doubt that it is Takemitsu's creation. A haunting, mesmerising piece subtly transfigured through his Japanese heritage.
Gao Ping is Chinese but he now lives and works in Christchurch. What is it like working with a composer who's not only living but is just a phone call away?
In fact, all of the composers on this programme apart from Takemitsu are living. We've worked with Gao Ping several times on his evocative work and it does feel amazing to actually query the composer directly - not only about specific details, but also on the deeper aspects of the work's inner life and spiritual dimension.
Now we know the sound surface is meant to be as delicate as the brush-strokes in Chinese calligraphy.
Cambodian composer Chinary Ung has written quite a few "Spirals". What makes your one live up to its title?
Spiral III, which we are playing, is an almost "hyper" melodic piece. Sensuous strands of delicious fragments have us swirling around, chasing one another from low point to high and back again. It's such a pleasurable work to perform, and perhaps its profoundly singing nature might be a Cambodian trait?
How much does the feeling of Chinese folk music come out in the Zhou Long piece?
This piece strongly suggests the timbre of the ancient Chinese instrument, the ch'in. In doing so, it blurs the line between "folk" music and "art" music - if such definitions still have any validity today.
What was it like working with Naxos on the upcoming Asian music CD?
Working with Naxos on this project is no different than it has been with our earlier Mendelssohn project; same producers/engineers, same high standard from all involved, and same wonderful recording venue in Toronto that allowed us all to enjoy the sheer beauty of the aural experience playing this repertoire.
Auckland Arts Festival
What: New Zealand String Quartet - Bright Light and Cloud Shadows
Where and when: Auckland Town Hall Concert Chamber, tonight at 7pm