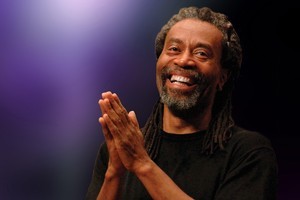 You hear of performers playing their audiences, but Bobby McFerrin really did use his Auckland audience as a musical instrument last night.
The 61 year-old with the elastic vocal range - they say it spans four octaves - also had 360 degree back-up from the sold-out crowd at the Christchurch benefit gig.
He hasn't sung his famous song, Don't Worry Be Happy, since 1988, and didn't make any exception for a charity gig.
Instead he proved the power of music was in bringing people together; in relishing in simple pleasures.
He shared the stage with fifty Kiwi back-up vocalists (including Jackie Clarke) who, without any practice, provided the four-part harmonies that ran behind McFerrin's bluesy-beat-boxing.
And as if that didn't have the audience smiling enough, the dreadlocked and sinewy master of vocal percussion, engaged all 700 of his on-lookers in an hour of concertina-like rounds.
The crowd might have been there to gasp and whoop as McFerrin turned his own body into a double bass, tom, bass and snare drum and bird - and used his microphone as a wind-pipe - but between his own hits like Blackbird and Drive, he turned the mic on them.
McFerrin is all about the feel-good factor, and he managed to give even the most tone-deaf members of the audience confidence in their own musical talent.
Perhaps they weren't quite up to the beat-boxing and soul-singing of Craig and Kerry, two random members of the audience who McFerrin invited up to share the stage with him, but everyone else found they were capable of harmonising on cue.
With just the flick of a wrist, or a leap across the stage, McFerrin turned his enraptured audience into a united voice, capable of performing Madame Butterfly, the William Tell Overture and Ave Maria.
While he didn't actually utter the lyrics to his most famous song, they were the overwhelming message behind his visit: don't worry, be happy. And send that love down to Christchurch.