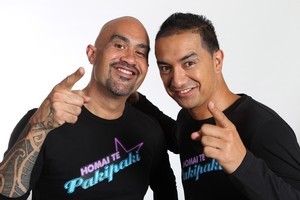 To be fair, there is far more to this popular home-grown TV talent show than simply getting up there on stage and singing karaoke like you do at the pub. Because as past season winners, like 2010 champ Roman Nicholas from Tauranga proved, these contestants are real-deal singers. And with $1000 up for grabs every week - and a grand prize of $10,000 - there is no holding back when they holler their hearts out in an attempt to get viewers to text-vote for them.
Filmed live every Friday night from Maori Television's studios, the wannabe stars start their nerve-racking auditions at 4.30pm in the afternoon, but only 10 (or maybe a few more if the standard is high) are selected to perform on the show.
"It's always an amazing experience as 90 per cent of the kaiwaiata [singers] have never been in a studio before, so there are usually some emotional moments - for them and for us," says series producer Erina Tamepo.
Unlike the highly rehearsed and stage-managed structure of big-budget talent shows like American Idol, the contestants on Homai Te Pakipaki have little preparation and rehearsal time - and definitely no coaching and choreography help. "Most of our kaiwaiata aren't here because they want to be stars - they just really love singing and dream of singing in front of an audience. Our show is unsanitised, spontaneous and fun."
Hosts Matai Smith and Te Hamua Nikora are back this year, and Smith reckons although they've had some great singers over the years, this competition is more about giving it a go.
"There's so much aroha emanating from our audience that as long as you do your best, that's all that matters.
"I love that Homai Te Pakipaki is so raw and so real.
"And it's not fabricated and slick - it's all about the talent."
The series will be made up of 20 heats and two semifinals before the grand final on August 26.
LOWDOWN
When: Friday, 8.30pm
Where: Maori Television
What: Lights, camera, karaoke
-TimeOut