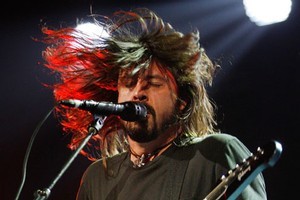 The Christchurch earthquake has continued to inspire the entertainment industry into action with benefit shows. Here are two more on the way:

Foo Fighters
What: Dave Grohl and his Foo Fighters are coming. Which of course means Kiwi fans will be among the first to see the band play live on their tour for new album, Wasting Light, which is out April 12. But it's only a small venue so you'll have to be quick.
All proceeds from this show will go to the Christchurch earthquake appeal.
Where and when: The Auckland Town Hall on Tuesday, March 22.
Tickets: On sale Friday at the-edge.co.nz. Price TBC.
Bare
What: An all-star cast including Sam Neill, Rhys Darby, Keisha Castle-Hughes and Lucy Lawless are getting together to perform writer/director Toa Fraser's play Bare to raise funds for Christchurch. The story of Kiwi identity and change established Fraser as a talented playwright when it was first performed back in 1998; he then went on to direct films No. 2 and Dean Spanley. Originally performed by just two actors, this incarnation will feature a cast of 17 also including Ian Hughes (who was in the original production alongside Madeleine Sami), Michael Hurst, Sara Wiseman, Antony Starr, Ian Mune, David Fane, Bronwyn Turei, Kirk Torrance, Annie Whittle, Mia Blake, and Morgana O'Reilly.
Actor and director Michael Hurst grew up in Christchurch and started his training as an actor at the Court Theatre in the late 70s. "We pull together as artists and the community pulls together to help in the reconstruction and rehabilitation of a city. Sounds right to me."
Annie Whittle is another who calls the city her home town. "My 88-year-old mum still lives there in her own place. I feel devastated by what has happened, but I feel honoured to have been asked to participate and relish the opportunity to help raise funds to help this beautiful beleaguered city."
The play will end with a performance of Bathe in the River by Don McGlashan and the Jubilation Choir.
Where & when: The Civic, March 25, 7.30pm
Tickets: $35 via the-edge.co.nz or 0800 BUYTICKETS
- TimeOut