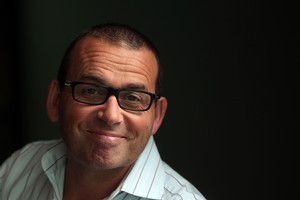 Over several caprioska cocktails last Tuesday night, dumped TVNZ star Paul Henry confessed he's entertaining offers from rivals Television New Zealand and MediaWorks about a possible return to broadcasting in this country.
Of course, it's all conditional on whether his LA talk-show deal eventuates. Production company Ish Entertainment is pitching Henry to agents and network execs in the States in the hope of putting together a deal for a new television show.
If Hollywood producers sign up in the next few weeks, then it's adios Auckland. But in the meantime, Henry is relishing being broadcasting's most wanted man... again.
A high-placed source at TVNZ admitted network executives "are keen to have Henry back in the fold". This from the former employer which barely put up a fight to retain him when the public furore broke out following remarks Henry made in-air about Indian minister Sheila Dikshit and our Governor General.
It is understood TVNZ boss Rick Ellis and head of news and current affairs, Anthony Flannery, are ardent supporters of Henry and never wanted to lose him in the first place.
However, insiders tell me TVNZ board chairman Sir John Anderson, who has past interests with New Zealand Cricket and the ANZ and National Bank (sponsors of our domestic and international cricket), was not in favour of keeping Henry at the company.
So, what's the likelihood TVNZ will now step up and deliver a feasible option? "They won't have the guts to actually offer something," a prominent media man told me.
However, my sources at the network suggest execs are seriously looking at headhunting Henry to replace Mark Sainsbury on Close Up - the show Henry always had his eye on.
There's no love lost between Henry and Sainsbury, who last month celebrated 30 years at TVNZ. At the time, Sainso complained to me about his TVNZ bosses forgetting the milestone. But if he's now hoping to keep his job, perhaps whingeing about the accidental oversight may not have been wise.
But what about MediaWorks?
I understand Henry and the company's group managing director Sussan Turner have been in serious talks about what the broadcaster can do to lure him onboard.
TVNZ is all too aware its rival can offer attractive posts in television AND radio. This will no doubt appeal to Henry, though I understand the father-of-three is not interested in being overworked.
A primetime, week-day radio show on RadioLive will be right up his alley. Of course, selective TV3 projects around the World Cup and the November election will be enticing too.
Then there's the romantic link. Henry's long-time girlfriend Linzi Dryburgh is a producer at RadioLive and MediaWorks will be hoping she may be an encouraging ear. A high-placed source at the company laughed: "They can carpool to work together and bitch about the bosses".
Henry told me he will make a decision soon. Watch this space.
-Herald On Sunday / View