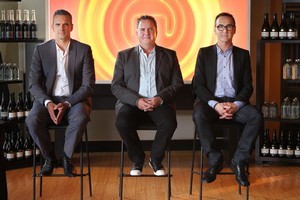 Italy is all about emotion - the opera, the architecture, and the food that reaches your stomach only via your heart.
So when the fourth round of MasterChef produced an Italian challenge, you knew that there would be plenty of emoting and drama and excitement before someone said "arrivederci".
Roll in a guest Italian chef straight out of central casting - award-winning O'Sarracino restaurant's Gaetano Spinosa - and you know that this won't be about cool, intellectual food.
"Passione, amore e semplicita, and not too much cream," Gaetano helpfully advises the 11 (Simon Gault translates: passion, love and simplicity, and watch the presentation).
The contestants' emotions range from stricken to panicked. "Crap," says Robert, warmly, while Michael is quietly confident. He shouldn't have been, his confusing prawn mousse ravioli with dukkah mash-up landed him in the bottom two for the evening.
Surprisingly, only a handful of contestants had ever made pasta before, but at least they all managed to discern the difference between their randomly assigned challenges of ravioli, tortelloni or tagliatelle. Instructions were harder to ignore but poor Michael misunderstood Italian and thought he could randomly play with pasta, any sort of pasta. Not pretty.
Thankfully, there were no tears, but the shaking and sweating and nerves aplenty gave us more drama than the second act of an opera. Contestants are still to learn the power of planning during their rush through the pantry.
However, forgetting lemons for prawns or peas for the pea puree didn't stop our two eventual winners, Cameron and Jax, from dishing up clean, simple, lovely pasta that had the judges in rapture. The tricky pasta dough seemed to co-operate for everyone but water wouldn't boil, fillings fell out, pieces gummed together.
There were enough bleeps from exhausted contestants to make judge Josh Emmett feel like his old boss was on set and no one was happy with their last-minute sprint to presentation.
There were Italian lessons to be learned all round. All the outrageous flirting by Gaetano with the lovely Michelle was enough to rescue her puttanesca pasta, while Fiona's un-Italian combination of goats' cheese and mushrooms had the judges feeling let down. Simon's suggestion that she's one to watch means we get to see her fight another day. Nadia's tortelloni reminded a rapt Gaetano of home; she's staying.
The mid-ranking boys - Stu, Antony and Sam - plug away, but they'll have to show that they really understand food and avoid bizarre mistakes like salad greens mixed with pasta or they'll be sitting in the bottom ranks.
Italian food can divide the strong men from the weak. Josh sardonically remarked that some dishes didn't even make Europe, let alone Italy, while Simon glumly noted big highs and deep lows. It was his crazy combinations showing a lack of tastebuds that saw plucky vegetarian Robert eliminated.
Gulps all around from the remaining 10 contestants. And pasta for dinner for salivating viewers for the next few nights. Arrivederci indeed.
Masterchef: 7.30pm Sunday, TV One.