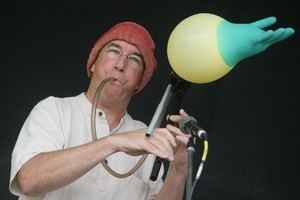 The Auckland Arts Festival's commitment to catering for all audiences is admirably demonstrated with this family-oriented show that shines a light on the musical possibilities lurking within a surprising array of everyday objects.
A rubber kitchen glove, a feather duster, a watering can, a folding stool and assorted bits of plastic pipe are gently coaxed into revealing their inner voice as they become the raw material for the magic of instrument maker extraordinaire Linsey Pollak.
Although consistently entertaining, the show has a serious educational purpose. Beginning with clear explanations of first principles, we are shown how expanding design parameters allow the instrument maker to progressively gain greater control over sounds that emerge naturally whenever wind passes over certain surfaces.
The process is most clearly illustrated in a fascinating sequence that begins with the flatulent sound of air escaping from a balloon, moves on to the construction of a perfectly serviceable truck horn and concludes with a fully functioning bagpipe which uses a brightly coloured kitchen glove as the windbag and various pieces of irrigation pipe for the control mechanism.
A similar exposition on the principles of the pan-pipe is enlivened by the introduction of an electronic live-looping device that allows Pollak to rapidly assemble a virtual pan-pipe orchestra.
High-tech electronic wizardry was neatly combined with DIY ingenuity to create a series of single reed instrument ensembles with the rich mellow sound of clarinets layered on top of voice-generated rhythm tracks.
Centrepiece for the performances was "Mr Curly", a contra-bass clarinet that has been made with two metres of garden hose wrapped tightly around a piece of PVC pipe.
This remarkable instrument blasted out a dose of groovy seventies style funk that had the young audience nodding and bopping in their seats.
The finale came with the creation of an edible carrot clarinet and as with all good cooking shows the live demonstrations are backed up with detailed instructions that can be easily accessed on Pollak's website or viewed on his extensive gallery of YouTube videos.