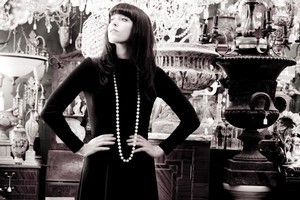 Those early months of the year should have been exciting for Flip Grater. Last month the Kiwi singer-songwriter signed with a German label and was preparing for a European tour.
But like thousands of others, on February 22 her world was rocked by the 6.3-magnitude earthquake that left large parts of her hometown of Christchurch in ruins and killed so many.
Grater was in Auckland - where she moved just over a year ago - and felt utterly helpless. "It was so hard to be up here. It was heartbreaking," she says.
"I didn't want to rush down because I didn't want to be a strain on the resources, so it was kind of this weird limbo moment where I just desperately wanted to be there and hug my family."
But within two days Grater had dashed down to be with her loved ones, most of whom live in the badly affected eastern suburbs.
And she was lucky to have a base just outside Christchurch. "My father has an organic farm and he's off the grid. So I was able to stay there without it being a problem and travel in each day to help deliver food and water to places."
Grater is shocked by what she has seen of her beloved city - the struggles people are still facing and the devastation to its buildings, including the venues where she kicked off her career.
She is confident, however, it won't hold back the city's thriving and growing musical community.
"The attitude I saw was so inspiring and humbling.
"I have no doubt Christchurch will be rebuilt and that it will be an incredible place.
"The music scene is so strong and adaptable. Even now when there are no venues, there are already concerts being held in the streets and local musicians going around and playing in welfare centres.
"You don't need a venue - all you need is musicians, instruments and people to listen."
And while it's Christchurch and its people that remain at the forefront of Grater's thoughts, she is still planning to tour Europe. She is sure a gig in Brighton in the UK is where she is bound to connect with other Kiwis also thinking of home.
For more info on tour dates go to www.flipgrater.com