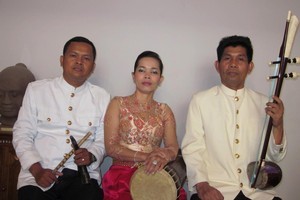 After Lautten Compagney's taste of the contemporary in Tuesday's Timeless concert, the Auckland Arts Festival brings out its most adventurous music in its final week.
Certainly the New Zealand Symphony Orchestra's Symphonic Odyssey, featuring the music of Berio and Ligeti along with the two Strausses, Johann and Richard, has conductor James Judd in ecstasies.
"It's a dream of a programme," he says. "Unbelievable. Probably the first time in the world that these four pieces have all found themselves on the same bill. A feast of colour with four absolute masterpieces in their own right."
2001: A Space Odyssey, the Kubrick film that has inspired the selection, is hailed as "an incredible vision" with "knockout" music, but we will get more of Strauss' Thus Spake Zarathustra than just its opening fanfare.
Judd points out a fugue for cellos which sounds "so modern and weird; it's such a forward-looking piece of music". In fact, so forward-looking that the conductor happily links Strauss' symphonic poem with the "great merging blocks of sound in Ligeti's Atmospheres". He admits to wonderment at how the Hungarian composer "creates all this incredible detail and yet all we have to do is sit and enjoy the very elemental results of it all".
The centrepiece of tonight's concert is Luciano Berio's 1968 Sinfonia, finally receiving its New Zealand premiere. Forty-three years ago, this monumental score, with its tribute to Martin Luther King, its quote-laden collage around a Mahler scherzo and the Swingle Singers delivering Beckett alongside student political slogans, was mind-blowing.
"Berio was inspired by Bernstein and what was going on in the 60s in New York," Judd says.
Next week the Town Hall Concert Chamber hosts events which cross the globe to cultures that may be nearer but are more exotic. On Tuesday, Rajendra Prasanna and his musicians, en route for New Plymouth's Womad next weekend, offer the opportunity to hear the shehnai in The Spirit of India. Three nights later, China is in the spotlight through the 11 musicians of the New Purple Forbidden City Orchestra.
While these Beijing musicians will be including works by New Zealand composers Gao Ping and Jack Body in their Chinese Aura presentation, Body's latest project, O Cambodia, takes the same stage on Thursday. There are prestigious names involved, with four composers sharing duties - Body and Gillian Whitehead, Cambodian Him Sophy and major international figure Chinary Ung.
Performing alongside our own NZTrio are three expert Cambodian musicians and Body is clearly taken with the talents of singer and flautist Him Savy, who can sing and play in both Cambodian and Western styles.
Body compares the sound of Cambodian music, with its singular seven-note scale, to that from across the border in Thailand. "It's a scale that drove the American composer Lou Harrison crazy," Body laughs. "He couldn't understand how anyone could create such an artificial intonation."
Yet, I am assured that the results are enchanting with "lots of bending of notes and subtle things that are so delicious".
This is a concert founded on strong politics. It comes with a special message from patron Dame Silvia Cartwright about the need to make the world aware of the wonders of Cambodian culture after the savagery of the Pol Pot years.
On Friday, Auckland Philharmonia Orchestra's The New Zeibekiko has composer John Psathas offering a spectacular love-letter to his Greek heritage. Hamish McKeich, who was in charge of a smaller-scale version of the work five years ago in Wellington, is picking up the baton and promising a "high voltage experience".
With two Greek musicians, Manos Achalinotopoulos and Petros Kourtis, leading the celebration, and music ranging from the Byzantine and traditional to a replay of the composer's breath-plundering Tarantismo, this is an evening in which little will be held back.
And as for the peak of this roller-coaster ride, McKeich singles one piece from early in the evening. "It is so fast that you can't really think of the rhythm, but just get the patterns fitting over the groove that's helped along by the Greek percussionists."
Safety-belts could well be recommended.
Auckland Arts Festival
What: New Zealand Symphony Orchestra - A Symphonic Odyssey
Where and when: Auckland Town Hall, tonight at 8pm
What: The Spirit of India
Where and when: Auckland Town Hall Concert Chamber, Tuesday at 7pm
What: O Cambodia: Four Composers Respond to Cambodia
Where and when: Auckland Town Hall Concert Chamber, Thursday at 7pm
What: Chinese Aura
Where and when: Auckland Town Hall Concert Chamber, Friday at 7pm
What: Auckland Philharmonia Orchestra - The New Zeibekiko
Where and when: Auckland Town Hall, Friday at 7.30pm