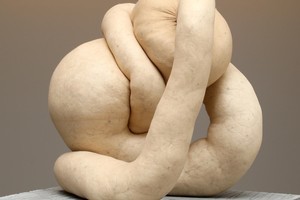 It hangs upside down from a ring on the wall. Its legs are as long and skinny as the thighs of a scrawny chicken. Its huge hooked beak reaches from its tiny head right back up along its body. The body is covered with two small blankets, one of which has an untidy fringe. The title of the work is Sleeping Pterodactyl, part of an exhibition called Methusalem by Francis Upritchard at Ivan Anthony. It is part of the Auckland Arts Festival and contributes to a vein of grotesquerie that runs through some of the shows.
New Zealand-born Upritchard has established a considerable reputation in Europe with exhibitions in London and even in the famous Secession building in Vienna.
Her work is consistently disturbing and strange but it also has wonderful presence. The works in this show are small and, with the exception of a trivial piece showing a table setting covered with the pattern of the cloth it sits on, they are all remarkable for their imagination and technique.
The still-life piece harks back to Upritchard's earlier work and so do some ceramics. These look like conventional pottery until you see the harlequin face that peers out with a grimace that makes it both smiling and malevolent. The face that graces a lidded urn is most telling because the vessel suggests dust and ashes.
The pieces most characteristic of Upritchard's work are fascinating small statuettes in a coloured modelling clay set hard. The colour adds to the satiric element in the work although it does not blur the sharp characterisation of the figures.
A notable example is the yellow and green Forward Motion where an ageing intellectual, balding with a tiny moustache, sits revealed to the world stark naked while he confidently lectures about momentum with his hands caught in the midst of rhetorical gesturing. The modelling of his bony hands as well as the exact observation of the pose is a splendid piece of characterisation.
Another vein of the grotesque is mined by visiting English artist Sarah Lucas whose work is at Two Rooms. Her reputation swings on pantyhose. Famously, she uses stockings and their stretchiness to make sculpture that evokes many levels of reference. Her most famous work is distinctly erotic and a group of big photographs on one wall show the kind of work she has done in the past where the pantyhose have dark legs and a dark bikini around the waist. They lie spread on a chair and between the legs a shape rears up. The photographs are called Pepsi & Cocky.
Elsewhere in the show there are works made in England, all called NUDs. These are tightly folded shapes where the stuffed stocking looks at first to be quite hard and sculptural but the stretch material is exploited to make intensely embracing shapes that resemble everything from human forms in a tight embrace through coiled intestine to, it must be said, excrement. They evoke a whole range of human experience in an intricate form.
The most tense is NUD CYCLADIC 1, which is tightened by one form, like an arm or a swan's neck, that pulls the whole piece powerfully together.
The works made in New Zealand link the stretch fabric of stockings with the rough surface of concrete blocks and the polished glazed shininess of lavatory bowls. The toilet bowls are an experiment that does not really work. They provide opportunities to stretch the material over orifices large and small but the combination with stuffed stockings emphasises the sense of human waste.
Other works do catch a more telling range of experience. Galaxia matches stuffed, nippled teats with a sheep's skull, and the combination forcefully contrasts both nourishment and death. The whole show is an astonishingly clever exhibition and inevitably produces mixed responses.
The vein of grotesquery continues in the work of New Zealand resident artist Liam Barr, whose work at the John Leech Gallery represents a huge advance on his previous exhibitions. His painting has become more subtle, more delicate and his vision sharper. This show, called Pakeha, is devoted to images of 19th century English immigrants looking uncertain in their new country on the other side of the world.
A typically potent image is Mistress Molly. A tightly corseted lady, her head held rigid by a boned collar, delicately fans herself in front of a bed, under a wall of muskets. Her chest is tattooed with the heads of her conquests. She is a strange creature in an alien land and the image is skilfully and thoughtfully realised.
Tattoos play a part in other paintings of men who lived with the Maori and adopted the moko.
The most telling portraits are the ones with unexpected detail that reinforces the sense of well-intentioned intruders. A notable example is Promise and Prayer, with child-like figures having a simple picnic with teapot and cups under the head of deer they have introduced and a dead tree with a lake and empty land in the background. Carved on the tree is the hopeful rubric "Home Sweet Home" which it demonstrably is not.
The tension in these paintings of symbolic figures of 19th century pakeha is on several levels. There is a tension between colonials and the landscape as well as a strong sexual tension, notably in Aurora's Figaro. The image is quite complex. A girl with a whip stands on a tin drum while a boy with a horse's head cavorts before her. In his hands are the coconut shells that were used to make clip-clop sound effects in the theatre of the time. They are in a tidy garden but beyond the gate is again a wide trackless landscape.
The woman in the centre of Amberley, with her fox fur draped around her shoulders, is a powerful image of lonely repressed desire for many things as she clutches a musket for protection.
All of these images go much further into human realities than the stylised figures that dominated the artist's previous work.
These three exhibitions grace the festival but show that contemporary artists do not seek beauty for itself. They are looking for previously unexplored feelings and means of expression.
The only place where anything like conventional beauty is found is in the exhibition by Niki Hastings-McFall at Artstation. She combines the Pacific tradition of the lei with the European tradition of floral arrangement in charming circular arrangements of artificial flowers that are both varied and colourful. Yet the grotesque intervenes again, because the arrangements support little dancing skeletons that enact tableau from the Crucifixion to the arrival of Lohengrin riding on a Crown Lynn swan.
At the galleries
What: Methusalem by Francis Upritchard.
Where and when: Ivan Anthony, 312 Karangahape Rd, to March 26.
TJ says: A small exhibition of small things that reinforce the artist's considerable reputation for the bizarre derived from the commonplace.
What: NUDS by Sarah Lucas.
Where and when: Two Rooms, 16 Putiki St, Newton, to April 9.
TJ says: Celebrated British artist folds stuffed pantyhose into remarkable sculpture that evokes many levels of suggestion.
What: Pakeha by Liam Barr.
Where and when: John Leech Gallery, cnr Kitchener & Wellesley Sts, to March 26.
TJ says: Deftly painted but strange and telling images of Europeans adjusting to an alien land.
What: Danse by Niki Hastings-McFall.
Where and when: Artstation, 1 Ponsonby Rd, to March 19.
TJ says: A show in two parts: bold abstractions in reflecting material and sculpture with wonderfully made flower arrangements crowned by skeletal figures.