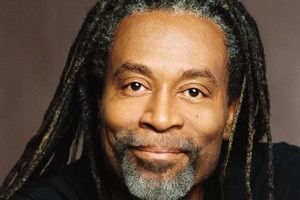 Maybe, just maybe, if a nice little boy or girl asks Bobby McFerrin to sing his 1988 pop hit Don't Worry, Be Happy he will. Only a few bars mind. Because the singer, vocal experimentalist and one-man band, hasn't sung that song in its entirety for years. Not since November of 1988, in fact.
"Occasionally I'll sing a snippet of it, and get the audience to sing a refrain," he says on the phone from his New York home ahead of his performance at SkyCity Theatre on Wednesday.
"Maybe I've sung a verse of it, too. And the only reason I would sing it is during an improvisational section when I'm hanging out with the audience and they can ask questions, and if someone, particularly someone under 12 years old, asked me to sing Don't Worry, Be Happy I will sing a couple of lines," he says with a chuckle.
McFerrin's show is for kid's charity Variety, with all proceeds going to help children affected by the Christchurch earthquake.
To this day he doesn't even like talking about the song much. His response to whether he will be singing Don't Worry, Be Happy in New Zealand is a deadpan, "No". And he has to be pushed to offer any more about the song.
You can kind of understand why he made a decision to stop singing the "hit" so soon after it was released. Along with the album, Simple Pleasures, it was a world-wide chart topper, winning four Grammy awards (of which he's won 10 in total), and McFerrin wasn't ready for the fame. He retreated, and refused to be pigeonholed by the song which was a mainstream hit in a career that has been more about experimentation and innovation.
Born in New York in 1950, McFerrin's parents were both trained singers (his father was Sidney Poitier's singing voice in Porgy and Bess) so he was brought up around all sorts of music from classical and jazz, to funk, soul and rock'n'roll, as well as Brazilian sounds and film soundtracks.
He also had an obsession with "Third Stream music" - like Miles Davis hooking up his trumpet to a wah-wah pedal - which is where much of his experimental approach to singing would come from later on.
Even though he had always been into music, playing clarinet and piano and composing for big bands and orchestras, he only started singing when he was 27.
"For a long time I rebelled against my family - because everyone in my family was a singer - and I thought I'd try something else. I thought early on I wanted be a Hollywood composer, to write for films and TV shows, but I ended up getting a job as a pianist travelling the country. All the time I was playing piano I never really felt that that was my instrument, it was cool, but 'I don't really think it's mine'.
"But one day [when he was walking home during his lunch break from the University of Utah], just out of the blue I discovered my voice," he says simply.
He started out thinking of a conventional singing career - like "Michael Buble or something" - but eventually settled on the more exploratory and experimental vocal approach that he's renowned for.
"I shied away from it initially because it seemed like an impossible dream to be a solo singer on stage without a band," he chuckles. "But it was one of those visions that just wouldn't leave me alone so I decided to explore it."
And partly inspired by jazz pianist Keith Jarrett's solo piano concerts - best heard on 1973's Solo Concerts: Bremen & Lausanne - he went about creating his own acappella free jazz-type vocal style.
His latest album, VOCAbuLarieS, is a diverse album with He Ran To the Train a sprawling dance club track and Messages a trippy dreamer. But it's also complex in its creation with more than 1400 vocal tracks making up the album.
He's trying to develop a concept called audience art and plans to use his Kiwi audience as his latest guinea pigs. Normally he does between 15 and 45 minutes of solo work before getting the audience involved but now he's gunning to get them singing straight away.
"I want to let the audience be the performers. And I think every audience wants to get involved but culturally some of them are very shy or reticent to sing, and then again there are some where you lift your hands and then bang, they're right there with you.
"So what I'm going to attempt to do is get the audience to sing almost as much as I do," he laughs.
Performance
Who: Bobby McFerrin
What: Vocalist and one-man band
Where & when: SkyCity Theatre, Auckland, Wednesday, 7.30pm
Essential albums: The Voice (1984) Simple Pleasures (1988)
VOCAbuLarieS (2010)