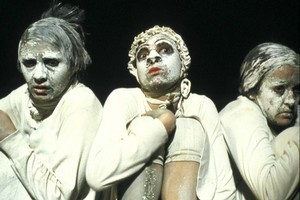 Maguy Marin's landmark work, celebrating 30 feted years of continuous performance, begins with the sculptured forms of its ten dancers, posed in dusty alabaster-like desertion, being slowly brought to life by a solitary male voice in a quietly beautiful rendition of The Organ Grinder, from Schubert's Winterreise cycle.
In the last lonely scene, when all but one has trudged and grunted, hissed and cackled, fought and struggled and spat their ways to journey's end, another single male voice, in maddening repetition and far from lovely, accompanies the final fade.
Thirty years ago May B shocked with its new definition of what dance might be. It led, at the time, to Marin being labelled "antidance".
But the satisfying sound loop for opening and closing scenes is the mark of a work consciously choreographed, and while its Beckett-inspired content might be existentially chaotic, the performance is intensely disciplined.
Beckett spoke volumes in long stretches of theatrical silence. Marin speaks in eloquent mudra - physical movement loaded with meaning, from subtle shrug, twitch, shuffle and sway, wild shriek, ghastly grimace and masturbatory pumpings, to frozen moments of despair.
There are snatches of words, song, some decipherable, some not.
Her dancers, swathed in greying underclothes, the odd fat suit and hideous makeup, are astonishingly precise in their co-ordinated ticks and shudders and in their rolling and thumping through complex choreographic/political/social shapes and lines.
Apathetic shuffling gives way in an early section to a rowdy march of bacchanalian propensity - and clouds of rising dust. Beckett's famous birthday party scene is more graphically alluded to, and some of his specific characters are recognisable in the bondaged forms of Lucky and Pozzo, possibly Krapp.
But it is in the smallest of movements that Marin power is most potent, and expresses anew Beckett's vision of humanity as tragic, comedic - and so very human.
It is there in the shoulder shrug of the solitary figure who misses a place in the lifeboat, fatalistic, what we always knew. It is there in the childlike, unconscious reach of arm to behind for a comforting scratch. What we always knew.
*May B runs at Aotea Centre till Saturday