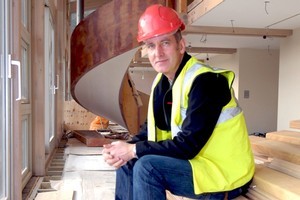 Reality television of the mindless variety is a welcome escape from the real-deal reality-TV that has dominated our screens in the past two weeks or so.
And, for a trash-TV-loving-vegetable like me, the new and improved versions of my favourite reality shows such as American Idol, Grand Designs, and MasterChef, are making them appointment viewing once again.
This sort of TV relies heavily on a formula - think "move that bus" and "the person joining so and so in the bottom two is ..." But in the case of Idol and Grand Designs especially, the formula was killing them.
The most noticeable changes to be made are on Idol. The whittling-down process is always the most interesting bit and this time round it has been drawn-out. So rather than simply focusing on the stars, the freaks and unfortunates of the audition process, we've got to know the likes of Mick Hucknall lookalike Brett Loewenstern just that little bit better. It's all about the journey, man.
And the loss of Simon Cowell is the best thing that could have happened. While J Lo is a touch insipid and emotional (not that it stops the contestants hankering for a hug with her), the real star is Steve Tyler.
He started out as an aged rock star ogling young and talented female singers, but he has turned into the firm, flamboyant good sport of the show.
And for what it's worth in these early days of competition, my money is on Jacob Lusk to win - if, that is, he can just keep his excitement and mouth-warping vibrato in check.
Over on Grand Designs, Kevin McCloud has been keeping very little in check. He's been downright unruly (well, as unruly as a British TV presenter can get) with his querying and scepticism of the poor clients' design and vision. But it makes for good telly.
There also seems to be a prerequisite this series for the budget of the build to be made clear - and, for nosy parkers everywhere, that's a grand move.
But the best thing about it this time is that the shows have stories to tell about the people and their homes rather than being a design-and-build exercise, which started getting samey.
So far we've met the crazies who dug a giant hole in the middle of the countryside and poured their house into it. Then there was the touching story of Lucie and Nat, who started building their eco-friendly home; sadly Nat died, leaving Lucie to soldier on and complete the build.
And this week McCloud got up on his high horse to try to save the "dignity" of a medieval guildhall. This dignity entailed retaining some flaky, disintegrated old wall lining, which to my eyes looked like the rats had been at it. So I wanted to give the righteous prat a slap, but ultimately it made for a funny stand-off between our Kevin and staunch retired oilman and DIYer Simon Bennett.
And our own touchy-feely MasterChef has to rate a short, but very special, mention because, well, what makes that show unique is there's no bitching (yet, anyway).
They seem like a bloody nice lot. Especially that lovely Cameron bloke. He cooks my sort of food. Lamb rack, peach puree and prawns? Yes please.
Although he could use a bit of Jacob Lusk's enthusiasm, because as the competition goes on the judges will be wanting the dishes to sing from the rooftops rather than muttering a very cute "thanks".
-TimeOut