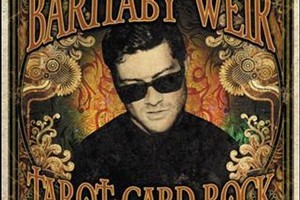 Barnaby Weir has built such a strong brand for himself fronting his big bands Black Seeds and Fly My Pretties, that he had the confidence to drop the dub, the back-up and the moniker for his latest solo venture.
This is the second time Weir has released an independent record - the first was a new age synth-driven album under the name Flash Harry in 2003.
But he has decided to reconnect with his folky, sometimes twee and always retro roots with this new project.
It's a nostalgic, easy-listening road trip through Weir's past few years, presented as a hassle-free country rock record. Think listening to scratchy cassettes on lazy road trips, back when State Highway 27 was a traffic-free zone.
While Weir may look like a tortured soul on the cover, it's not so brutally autobiographical.
It's more the sound of an older, wiser guy settling down on his veranda, gazing out across the dry, windswept land with his guitar. Wistful. Satisfied.
Opening with the album's upbeat first single Tarot Card Rock - which is unashamedly derivative of Bruce Springsteen's 1984 hit Dancing in the Dark - Weir moves through his slightly, darker, bluesier, side before dabbling in some gypsy charms (accordions and violins) and ending in a grainy, true rock 'n' roller I'm Coming Home.
It's nothing new, but it's new to Weir: rather than music to neck beer to, this is probably best matched with a hearty red wine.
Rating: 4/5
Verdict: Seed leaves pod to fly solo
-TimeOut