Think Fame plus Benny Hill and you get the gist of hit reality show Pineapple Dance Studios, writes Deborah Hill Cone.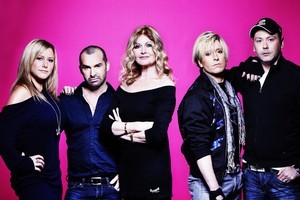 Remember Queer Eye for the Straight Guy? Gay boys make great talent on TV. And the latest winking, posing, sibilant, prancing, camp queen to pirouette into a S-T-A-R just being himself on the little screen, daaarlink, is Louie Spence, creative director of London's Pineapple Dance Studios.
"Dance is my life! ... Ooh, I feel my dancing juices flowing." (He shimmies about.) "Oh dear, I think I ripped my spleen. But I am a pro-fess-ion-al. I keep going even if I have internal organs that are ruptured." Spence then fans himself and looks from side to side as if he is going to pass out. Spence already has a cult following in the UK, and his own follow-up show, Louie Spence's Showbusiness.
But the show that "made" him is Pineapple Dance Studios (debuting on TV One this Friday). A big hit on Sky in the UK, it was nominated for a television award against a BBC show. The publicity blurb says "Pineapple Dance Studios: Where careers are made, dreams are broken, bitching is an Olympic sport and everyone is fabulous!" and it certainly lives up to its billing when Spence is on screen.
Or should I say on scream. He is a hoot.
The famous dance studio is where all the West End shows audition for theatre talent and, in the first episode, we meet a rag-tag bunch of eccentrics who work there with Spence.
That includes teacher Andrew Stone, a former boy-band starlet desperate to get a record deal; 75-year-old dance teacher Sylvester in his threadbare Lycra leggings; a physiotherapist obsessed with the paranormal; a posh totty called Tricia Walsh-Smith trying to launch a career as a singer; and Pineapple's founder Debbie Moore, a devotee of new-age method The Secret. It's a bit like Fame crossed with Benny Hill.
The only problem with having such a cast of odd-bods is there doesn't seem to be enough time for actual dancing. There is one fleeting Chorus Line moment as the dance studios hold an open audition to put together a dance troupe, but this is over quickly before we have had a chance to get to know the potential starlets. The dancing takes a back seat to allow Spence to show off.
After the shortlist of girls do a sexy "catwalk" routine, Spence says "Ooh, that was wonderful. I don't think I've ever felt so much testosterone. I might father children now."
There is no real narrative, just random scenes, drily narrated by ex-BBC newsreader Michael Buerk, in which we dip in and out of the madcap lives of the dance studio's cast. So we see the studio's founder meeting Miss England and promising she will make her Miss World through positive thinking. "Shortly after this Miss England decided to relinquish the crown after punching Miss Manchester in the face."
Dance teacher Stone is busy doing a diva act as he has publicity photos taken with his new band, Starman. But all is not going smoothly after the Hispanic guitarist, called Jesus, is certain someone has put chocolate on his favourite shirt. "Unconvinced Jesus goes off in a huff. Eventually the sin is forgiven and Jesus returns to his flock."
It is all very silly, completely OTT and without any artistic merit. It will be appointment-viewing in my house, daaarlink.
* Pineapple Dance Studios debuts on TV One, Friday at 9.30pm.