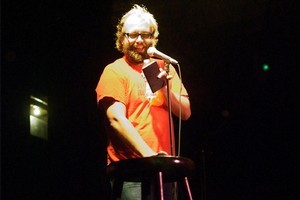 If you are looking for a show that is funny and uplifting, it is unlikely that you would settle on something that has interminable and suicide in its title.
But Daniel Kitson's stunning one-man performance is an object lesson in why you should never judge a book by its cover.
The show opens with the easy conversational tone of a natural raconteur and the improvisational brilliance of a professional comedian.
But once Kitson warms to his subject, words are blurted out in a breathless fever-pitch delivery and like the ancient mariner accosting a bemused wedding guest, he has the glittering eye of a man possessed by a story which simply must be told.
The tale begins with the chance discovery of a suicide note and spirals into an account of a deranged obsession that has the storyteller devoting two years of his life to analysing 30,629 letters found in the house of a man who spent 20 years deferring his clearly stated intention to kill himself.
The abundance of minute forensic detail convincingly suggests that we are a hearing a true story, but it is difficult to avoid noticing that the dead letter writer bears an uncanny resemblance to the show's narrator.
They share a playfully inventive way with words, a talent for bitterly sarcastic insults, a passion for the mundane details of our lives and an inability to avoid the pleasures of digression.
At one point Kitson interrupts himself in full flight to ask a member of the audience to refrain from texting as it "illuminates his disinterest". And one senses that is only with the greatest effort that he pulled back from an exposition on the perils of mobile phones.
But as in a Laurence Sterne novel, the digressive technique and seemingly endless accumulation of random observations somehow coalesces into a coherent narrative.
It is difficult to give an accurate impression of the show - I was almost overwhelmed by the sheer volume of effusive enthusiasm.
Suffice to say it travels a circuitous path that is hugely entertaining, wickedly funny and wonderfully life affirming in its conclusion.
*The Interminable Suicide of Gregory Church runs at the Herald Theatre, Aotea Centre, till Saturday