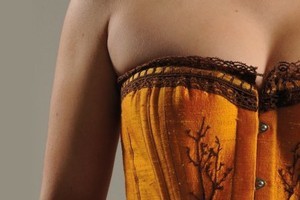 The iridescent quality of silk comes from the prism-like structure of fibres which refract light at different angles and British writer Keziah Warner has produced a shimmering homage to the fabric by approaching her subject from a number of sharply differing viewpoints.
A mythical story about the origins and history of silk is deftly inter-woven with a wry and humorous tale of a contemporary dress maker who faces redundancy and a broken romance, but hopes to repair her fractured life by constructing a perfectly stitched silk garment.
At times the storytelling is breathtakingly lyrical with sparkling descriptions a lowly seamstress who accidentally discovers the extrusions of the silk worm and goes on to become the Empress of China.
Richly poetic writing evokes the intoxicating properties of the fabric with an illuminating digression into the magical properties of Cinderella's ball gown.
But the lyricism is nicely balanced with a disturbing account of how the transcendent beauty of the fabric inspired earthly greed that resulted in industrial scale production with factory style farming of the silk worms.
In sharp contrast with the poetic writing the contemporary story is witty and ironic. A confessional, talk-show style narrative neatly captures the anxieties of modern woman who is obsessed with appearances and clings to extravagant fantasies about the seductive potential of the fabric.
New Zealand born actress Emma Newborn has an engaging stage presence and skilfully carries off the switches in tone.
Her presentation is enhanced by a powerful soundtrack and the London-based Apostrophe Theatre Company has established a strong Kiwi connection with Danielle Cormack efficiently stepping into the role of director.
*Silk runs at the Basement Theatre until March 8th