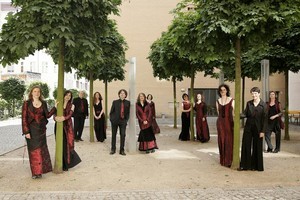 Taking an evening off from their accompanying duties in Xerxes, the German Lautten Compagney gave Aucklanders the luxurious experience of musical enchantment from a world-class Baroque chamber orchestra.
Friday's Handel with Care concert opened with the overture to the composer's Rinaldo and, from the first few bars, revelation burst upon us. Here were musicians well versed in the mastery of turning a phrase to its best advantage, making the most of Handel's piquant dissonances, with three lutes giving their unique tincture to the sound.
The overture's Adagio had oboist Eduard Wesley treating Handel's notes as a mere hint of what might be done with them, expanding them into a richly ornamented bouquet.
In the jig-like Allegro, Martin Ripper's recorder was all dotted-note jollity, with Peter Bauer's jaunty castanets cantering alongside.
The concept behind this programme - predominantly a collection of isolated arias, presented without singer or dramatic context - may have seemed fragmented to some, but these morsels were served up with incomparable flair.
On the opera stage, Lascia ch'io pianga would have been an affecting plea from the captive Almirena; in the Town Hall, without words, three lutenists transformed it into a hushed lament.
Wolfgang Katschner and his colleagues achieved wonders in sharing and varying colorations and textures, in a way that made this truly the music of friends.
Purcell was also brought in, with vivacious hornpipes and very Purcellian ground basse.
There were playful moments too, as when bass player Annette Rheinfurth engaged in a ingenious duet on Oh Dear What Can the Matter Be? with Bauer's tambour.
What: Lautten Compagney, Handel With Care
Where: Auckland Town Hall.
When: Friday