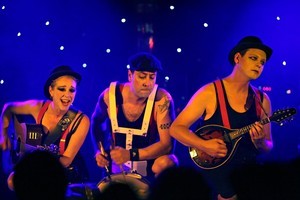 Director Craig Ilot describes the slick and polished Smoke & Mirrors as a "concept album for the stage". The show's eclectic troupe mix suggests the concept must be, what happens when you follow a white rabbit playing a ukulele, and end up in a glam rock cabaret presented as a 19th century circus?
You are wowed by talented entertainers, that's what, in an atmosphere of flamboyant Aussie masculinity. Moustachioed gymnasts comically pull staunch strongman poses in (suspiciously bulging) striped trunks, a check-suited tap dancer battles it out with the drums, a kiss-curled acrobat winks when she's swinging.
A buxom woman asks the audience to peel off her gloves - and then reveals the secret behind her face scarf. A fire-eating magician makes doves appear and saws people in half and - even more incredible than producing a rabbit - produces a person in a rabbit suit.
The individual acts are not trying to be particularly novel - they are well-presented, quality examples of traditional vaudeville craft.
The ringmaster linking them together is the magnetic artist known as iOTA, the show's songwriting co-creator (with Ilot). Sweat dripping off his crimson feather ruff, he sings about escape, masks and internal emptiness with some wry lines: "I swear my self esteem will rearrange."
The excellent four-piece band is integral to the action, supporting iOTA's gleefully cruel prima donna with poker faces during the one harsh, bawdy, audience singalong.
The second half is more serious and occasionally forced. Several returning performers investigate loneliness, and at the end, iOTA repeatedly sings "come back for me; I will be waiting", which seems generic after his earlier memorable lyrics.
But poignantly, he performs as an old rabbit, perhaps his earlier character's alter ego.
It's not long ago that we saw another musical show with high production values featuring lederhosen and lithe sailors in a spiegeltent. Yes, Smoke & Mirrors and Auckland Theatre Company's Cabaret are "on trend". But the present show is far less raunchy than last year's, aiming to amuse and impress rather than titillate. Mission accomplished.
Vaudeville
What: Smoke & Mirrors.
Who: Spiegeltent International.
Where: Pacific Crystal Palace Spiegeltent, Aotea Square, to March 19.