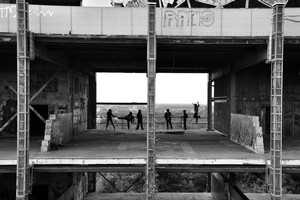 Rating: 4/5
Verdict: Setting their controls to the heart of the sun
After their impressive self-titled EP in 2008, then the expansive, cinematic debut album Circa Scaria the following year, this Auckland-based band who brought together psychedelic space-flight guitar rock with touches of world music (Middle Eastern and North African from violinist Felix Lun, plus sitar, oud, lute and odd percussion from Rob Croft and Ede Giesen) relocated to Berlin.
This eight-track album suggests Germany has made them into something harder, less romantic and much tighter. Elements of Krautrock (Can, Neu!) have been assimilated and, if the exoticism of the world music has been reined in, what has come through is an urgent astral ambience on pieces like Seizuretron which is so wide-screen it sounds orchestrated.
The exoticism sensibly hasn't been dispensed with entirely and on Circa Scaria here - yes, also the title of that debut album - you are swept off to a caravanserai somewhere in a desert, perhaps one on Mars.
Keys to the Kingdom is a haunting sci-fi/world music crossover, The German influence comes on throbbing journeys like the nine minute-plus title track and Casual Encounters at the end where a darker, menacing and occasionally industrial edge has
been added to their vision.
AEC could have happily sat where they were for a couple more albums, but The Fourth suggests they are restless spirits. They, and we, are the better for it.
- TimeOut / elsewhere.co.nz