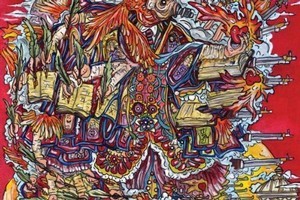 Rating: 4/5
Verdict: More absurd fun from Georgia's most colourful, camp and clever band
With their falsetto funk, tongue-in-cheek humour, camp dramatics, clever dynamics, pop-smarts and outrageous sense of fun, Of Montreal, out of Athens, Georgia sound like Queen or a Fame-era Bowie for the 21st century. And if their terrific Skeletal Lamping of 2009 staked out their distinctive ground, this silly, suggestive, sexy and cinematic-sounding sequel just layers on the irony.
On Our Riotous Defects frontman Kevin Barnes speak-sings his way through a fraught relationship with a crazy girl ("I did everything I could to make you happy, I participated in all your protests, supported your stupid little blog ... but still we fought, like Ike and Tina Turner in reverse"), Coquet Coquette rides a punching 80s rock riff, and they also slink around in R&B funk (Godly Intersex), Prince-like pop (Like a Tourist) and classic ennui-filled 80s synth-pop (Famine Affair).
Guests are Solange Knowles (Beyonce's sister) and Janelle Monae, but you can hardly escape Barnes' literate or funny lyrics ("you uncalibrate my skull ... thought she was my Annie Hall, or at least my Ali McGraw") or the everything 'n' kitchen sink production which, remarkably, still manages to sound crisp and danceable even when a guitar landslide arrives with backing vocals.
Two songs too long, but sign up for the fun resurrection. You'll be dancing and laughing.
- TimeOut / elsewhere.co.nz