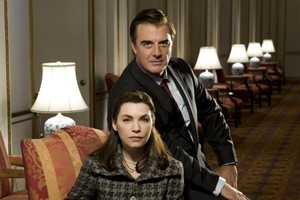 The creators of The Good Wife had a contingency plan, should the show not have succeeded in its first season.
The episode ended with a knock on the door, as the wayward husband - portrayed by Chris Noth - returns home from jail and greets his wronged wife Alicia, played by series star Julianna Margulies. That could have been it.
But, as it turned out, Margulies had built quite a fanbase over the course of 13 episodes and a burgeoning audience was hungry to find out the rest of her character's story.
So the series returns early to TV3 for its second season this week, picking up at the return of her politician-husband Peter Florrick, whose publicly lambasted infidelities have seen him put under house arrest. As if the four walls aren't enough of a prison, he is under the scrutiny of his wife and children, who have greatly changed in his absence and aren't sure they want him home.
The Good Wife is obviously inspired by high-profile families whose marriages have been shaken by one parent's dirty laundry being aired in the public eye.
The Clintons are an obvious example.
New Zealand had its own case last year, when ASB banker Stephen Versalko defrauded the bank and used the money to pay for his prostitute. Like The Good Wife, his spouse stayed by his side.
When researching scandals, the writers and producers were most interested in the female element.
"Those women were a heck of a lot more interesting than the men who were cheating on them," one of the executive producers Michelle King says. "You start to wonder, 'What is the reason they're not running away?"'
In Alicia Florrick's case, she thinks she has no choice. She has a family to raise,has to work to keep their heads above water, and sorting out her husband's betrayal is not a black-and-white exercise.
Margulies empathises with women she researched, knee-deep in similar situations. One scene in The Good Wife resonated: when Alicia's children see a website where people vote on whether their parents should stay together. The couple is being exposed and talked about as if they did not exist in real life - as if they were characters in a drama.
LOWDOWN
When: Sunday, 9.30pm
Where: TV3
What: Dearly beloved?
-TimeOut