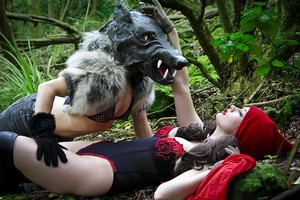 Deep in the Forest is subtitled a Cautionary Cabaret and punters should be cautioned to exercise a certain amount a scepticism when viewing the show's promotional material.
Along with a great publicity photo the press release promises politically astute cabaret and a provocative, sexy & subversive night.
The venue - inner city cocktail bar/restaurant Cassette Number Nine - delivered plenty of cool cabaret style ambience but the political content amounted to few off hand comments about John Key and the closest we got to provocative & subversive was a couple of blokes stripping down to their underpants and some-one waving a dildo about.
The enchanted forest where fairy tales have bite turned out to be a succession of dancers and circus style performers all decked out in fairy tale themed costumes.
At times the show had the down-to-earth charm of an amateur talent quest and with a well lubricated audience the performer's enthusiasm often carried the night.
The show opened with an acrobatic duet on the beauty & the beast theme. A fairy godmother camped it up as he transformed himself from macho man to frilly fairy and there was some clever aerial hoop work for Swan Lake.
A fire eater burning pieces of her clothes to keep warm almost managed to evoke the pathos of Hans Christian Anderson's Little Match Girl and a bondage style burlesque of Goldilocks got a few sparks flying.
A pretty geisha girl stripped down to her undies but I was at a loss to spot the fairy tale reference and an amusing werewolf parody was plagued by the kind of technical problems you would expect at the first dress rehearsal of a high school musical.
*Deep in the Forest: A Cautionary Cabaret is on at Cassette Number Nine until 6th March