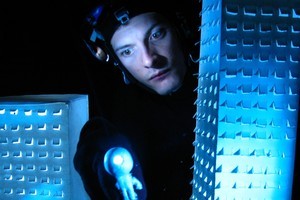 The Fringe festival has exploded into life nowhere more so than at The Basement which is serving up a moveable feast of up to five fast-turn-around shows a night.
The Adventures of Alvin Sputnik: Deep Sea Explorer is a delectable morsel of by pure theatrical magic.
The show opens with its creator Tim Watts scribbling on a lap-top tablet.
The doodling is projected onto a hand-crafted circular screen where it evolves into brilliant melange of animation, puppetry, live music and utterly enchanting storytelling.
Tech savvy sophistication combines with child-like simplicity in a futuristic riff on the Orpheus and Eurydice myth.
A grief stricken husband descends into a watery underworld in a valiant attempt to recover the soul of his wife but the epic dimensions of the classical tale are constantly subverted by down-to-earth humour and clever contemporary references.
More importantly Watts never looses sight of the emotional pathos at the heart of the story and keeps the audience spellbound - urging our unlikely hero on as he stumbles towards redemption.
Shakespeare's Will by acclaimed Canadian writer Vern Thiessen rummages around in the vast empty spaces that surround the few known facts about Shakespeare's domestic life.
But rather than indulging in speculation on Shakespeare's inner life the play offers a vivid recreation of living conditions in Elizabethan England and presents an entirely credible portrait of Shakespeare neglected wife Anne Hathaway.
The result is the exact opposite of the romanticised nonsense served up in Shakespeare in Love and the show arrives at the disappointing but highly probable conclusion that world's most extraordinary creative genius may have lived an ordinary and relatively uneventful middle-class life.
New Zealand born actress Suzy Sampson delivers a riveting performance that chillingly evokes the horrors of the plague and builds an emotionally compelling portrait of Shakespeare's enigmatic wife.
A local offering, Joseph And Mahina showcases the considerable talents of Thomas Sainsbury and Renee Lyons who present a tightly scripted vignette of life in small town New Zealand.
Sainsbury's writing reveals a sharp ear for conversational dialogue and the show captures the quiet despair of characters who are thwarted by lack of confidence and low-expectations.
But the play presents social types rather than particular individuals and provides few opportunities for the audience to become emotionally engaged with the story.
This is especially evident in the portrayal the nerdy Christian youth worker who comes across as a rather flat version of The Simpsons' Ned Flanders.
The Auckland Fringe Festival runs till March 13th
The Adventures of Alvin Sputnik: Deep Sea Explorer by Tim Watts
Basement Theatre until 1 March
Shakespeare's Will by Vern Thiessen
Basement Theatre until 2 March
Joseph And Mahina by Thomas Sainsbury
Basement Theatre until 28 February