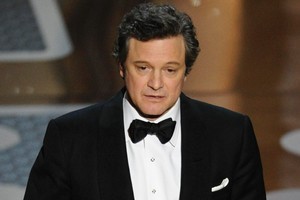 The King's Speech predictably won the most Oscars at this year's Academy Awards and took out the top prize, but it shares the honour with Inception, which also won four awards.
The Social Network took three, with The Fighter, The Kids Are All Right and Alice In Wonderland receiving two each.
The awards, co-hosted by Anne Hathaway and Best Actor nominee James Franco, got off to a slightly nervous start, although the duo got a good laugh as Hathaway joked to Franco, "You look very appealing to a younger demographic as well" - a reference to the organiser's attempts to claw back a younger audience for the telecast.
The first Oscar, for Achievement In Art Direction went to Robert Stromberg and Karen O'Hara for Alice In Wonderland. Wally Pfister won Achievement In Cinematography for Inception.
Performance By An Actress In A Supporting Role went to Melissa Leo for The Fighter, after missing out two years ago for Frozen River. She returned the favour by using the F word to the audible shock of the audience.
In animated films, Best Animated Short Film went to Shaun Tan and Andrew Ruhemann for The Lost Thing, with Toy Story 3 winning Best Animated Feature Film.
The Social Network won its first of three Oscars when Adapted Screenplay went to Aaron Sorkin.
Another favourite - The King's Speech - won Best Original Screenplay for David Seidler - who thanked his son Marc in the speech.
Best Foreign Language Film was awarded to In a Better World, making Denmark a three-time winner of the category.
Christian Bale won Performance By An Actor In A Supporting Role, taking The Fighter's second Oscar of the night, and with Colin Firth later winning Best Actor, it was the first British clean sweep of the male acting awards since 1965.
Trent Reznor and Atticus Ross won Best Original score, taking The Social Network's Oscar tally to two.
Inception won Best Sound Editing for Richard King, and Best Sound Mixing for Lora Hirschberg, Gary A. Rizzo and Ed Novick.
The Wolfman won Achievement In Makeup for Rick Baker and Dave Elsey, with Colleen Atwood winning Alice In Wonderland's second Oscar, for Best Costume Design.
Karen Goodman and Kirk Simon were fourth time lucky, winning Best Documentary Short Subject for Strangers No More. Best Live Action Short went to Luke Matheny for God of Love.
The problem of Banksy and if he would turn up was not an issue, with Charles Ferguson and Audrey Marrs winning Best Documentary Feature for Inside Job.
Eight-time Academy Awards host Billy Crystal received a standing ovation for taking the stage, and within seconds had more laughs than the whole show up to that point. Introducing a movie reel of Bob Hope - the only person to host the awards more than Crystal.
Inception then won its fourth and final Oscar, for Achievement In Visual Effects - Paul Franklin, Chris Corbould, Andrew Lockley and Peter Bebb. The Social Network won its third for Achievement In Film Editing - Angus Wall and Kirk Baxter.
Randy Newman took his second Oscar out of twenty nominations - winning Best Song for Toy Story 3's We Belong Together.
Things started to look up for The King's Speech, with Best Director going to Tom Hooper.
Natalie Portman won Performance By An Actress In A Leading Role for Black Swan's first Oscar.
Performance By An Actor In A Leading Role went to Colin Firth for The King's Speech.
The King's Speech won Best Film, bringing the film's total Oscars haul to four, along with Inception.
True Grit, which was the second most nominated film with ten, received no Oscars.