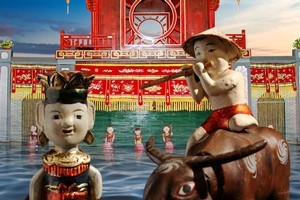 The first of 250 artists from around the world have begun to arrive in time for the opening of the Auckland Arts Festival on Wednesday.
The festival's focal point is Aotea Square, which is being transformed into a multi-staged garden where organisers hope people will meet over a drink, watch music and performances, and find out more about shows.
"If you go up to the festival garden suddenly you realise the scale of the festival and what's in it. It looks really bold and fantastic," festival artistic director David Malacari said yesterday.
"And I think once it's all finished up up there and the decorative elements are in place, it's going to turn that whole area into a major cultural hub for the next three weeks."
A special outdoor theatre with a miniature lake has been built at one end of the square for the Vietnamese water puppet show, predicted to be one of the festival highlights.
On the other side a large wooden and canvas Spiegeltent, decorated with mirrors and stained glass, will host a variety of shows, including hit cabaret show Smoke & Mirrors.
"Both feed into the square which has its own stage, it's got free music every night of the week from 6 to 7pm. And free DJ music from 4pm to midnight, every night."
Mr Malacari said the garden was ideally placed close to other venues like the Town Hall, ASB and Maidment theatres.
"So it's likely to be the place to gravitate to if you want to kick on a bit, or if you want to grab a drink before you see a show."
He hoped people who may not have looked at a programme yet would be able to wander into the garden and find out more about the more than 100 events on offer.
"We've got six shows opening on Wednesday night, and another two opening on Thursday night.
"So there's heaps to choose from, something for all tastes.
"There's certainly no shortage of choice this week, and that's really what it's about at a festival - at any given moment you can decide what it is you want to see."
Mr Malacari said many of the events catered for the whole family, even if some of the edgier shows - including Titeres Porno, a Colombian puppet show with explicit sex scenes - did not.
"That's in the [Spiegeltent], it's still a G-rated garden ... there's lots of late-night shows of the water puppets, don't forget.
"The garden is certainly everybody's garden, even if some of the shows might be a bit more restricted. It will be a great place to hang out."
The Auckland Arts Festival has been held every two years since the inaugural event in 2003. This year's festival runs from March 2-20.
* For more information go to aucklandfestival.co.nz