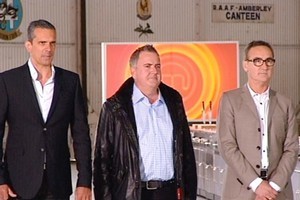 The second round of MasterChef and it's all about the numbers. Whittling thousands of wannabes to 25 somehow seemed less nail-biting than 24 to 11 finalists.
Last week's Golden Apron winner Michael Lee skipped this day of challenges to make it through to the final 12.
After last night's first challenge there were 18 people remaining, meaning seven people still had to go home.
The judges sure looked like they meant business as they marched into the war zone, a hangar at Auckland's Whenuapai airbase. Simon Gault, dressed the part in a Biggles-style bomber jacket, declared the battle open. Ray McVinnie warned of fighting for their lives. Battle on.
In the first challenge, an egg cook-off was harder than it seemed and one by one they fell at the gates.
Egg slid off the plate. Gone. Eggs not cooked. Gone. Beans and poached eggs on toast won't do, nor will raw flour in the fritters.
Josh Emett will not forgive the sins of boring or ordinary. Or, God forbid, 1980s presentation.
Already a couple of favourites have gone, and I'll sure be looking at brunch next weekend in a different light. Here's hoping my eggs ooze.
But these judges are happy with their lot. Already we have cracked a "sensational" and a "stoked" and it's only breakfast.
In challenge two, contestants had to use two out of three ingredients (beef, potatoes, lettuce). That must have been harder than it looked, as our charming Brazilian Bruno failed right off the bat by using only one.
Grilled lettuce could have been a horror story (it wasn't), the Thai beef salad got too clever (home-time for Alex, shame as she'd promised good things) and coconut rosti worked, despite the judge's scepticism.
The fusions with Asian or Moroccan or Jamaican were clean enough and simple enough not to upset the judges, even if the poor old French or English were ignored (guess a classic pommes frites or chips with the steak is too 1980s then?).
Cameron, our Putaruru hunter, was forgiven for lavishly sprinkling eggs with gold-dust-priced saffron and again had judges raving about his work. Fiona produced a great dish and our ballsy Christchurch mum is in (shout out to you Kathleen, I hope you and yours are all okay).
No more monks or Brazilians or calling up dear Dad - as it's back to life as they know it. Still, there's plenty of irony left with Robert the vego getting through with a perfect steak.
So we'll do the maths for you: 12 finalists, 11 more episodes. Start counting.
REVIEW
What: MasterChef
Where and when: Sunday nights 8.30pm on TV One