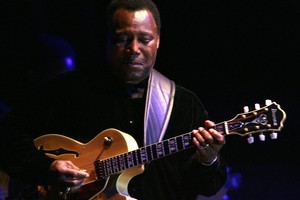 A North Shore firm which lent money to a concert promoter hoping to make up for a bad debt has called in receivers and lawyers to chase his funds.
David Jonkers' company Te Atatu Properties lent $268,000 to promotion business Tour Management Company to help fund musician George Benson's New Zealand tour.
Jonkers was already owed $363,000 from other events promoted by Tour Management Company's major shareholder, Brian Richards.
When it found it was out of pocket over the Benson tour, Te Atatu Properties tried to enforce its rights as a secured creditor of Tour Management Company.
But before it could do so Richards and the other shareholders put the company into liquidation, appointing convicted fraudster John Gilbert as liquidator.
The Herald on Sunday understands Jonkers had hoped to recoup his earlier losses by backing the Benson tour.
Benson performed in Auckland, Wellington and Christchurch in November.
"There were a lot of artists through at that time and lots of other events, so they didn't get the numbers," Jonkers' lawyer Luke Kemp said.
When Te Atatu Properties lent the latest funds to Tour Management Company it took out a general security agreement over the firm's assets. Tour Management Company was now arguing that the general security agreement was invalid, Kemp said.
Te Atatu Properties has appointed receivers to the company and called in an insolvency law specialist.
Tour Management Company liquidator John Gilbert was jailed in the 1990s for 3 years for fraud and struck off the Institute of Chartered Accountants' register.
In the past two years creditor opposition to his appointment has led to him stepping down from one insolvency and facing a High Court injunction in another.
The first liquidator's report said TMC owed $1.2 million.
It said the ventures were financed by taking out loans for each event, paying the lenders interest and a percentage of the net ticket sales. Not all the projects were successful and the company had accumulated significant debts.
Richards said Jonkers was aware of the financial position and had agreed to pay trade creditors first.