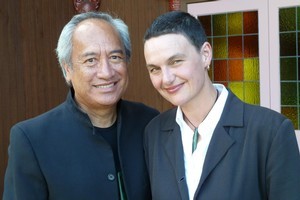 Charlotte Yates is songwriter, producer and general energy force rolled into one, for Auckland Arts Festival's Ihimaera project. Following on from her 2000 Baxter tribute and 2005 Tuwhare celebration, Yates, with the encouragement of festival chief executive David Malacari, gathered a dozen Kiwi musicians to tackle the words of Witi Ihimaera.
Ihimaera's initial response, caught by my roving mike at the Ihimaera CD launch, may have been, "Why me? Why not Albert Wendt, Sam Hunt or C.K. Stead?" but he is clearly chuffed.
"It's taken me somewhere else, somewhere I've never been before," he explains. "And I like being taken to other places."
For Yates, Ihimaera fitted the bill of "a writer with a huge body of work that I can give to a number of musicians for them to put their heart and soul to. A body of work that goes over and along a period of time," she adds. "With twists and turns, so he's not a one-trick monkey."
On Thursday, Aucklanders can enjoy talents from Ruia Aperahama of What's the Time, Mr Wolf fame and King Kapisi to the soulman SJD and Warren Maxwell of Little Bushman revealing just what the writer of Whale Rider and The Matriarch has inspired them to.
Aperahama, introducing his Song of Te Kooti, describes the experience as "like being wrapped up in cotton wool, working with words that already have such a great rhythm".
All the musicians have their own responses. Bill Urale, aka King Kapisi, says he studied Ihimaera's writing at school. He's toying with the idea of "going over to the brother and saying, dude, you've been an inspiration".
The song Whale Rider, given the familiar King Kapisi workover, is one of the album's highlights, with Urale rolling out a magic Pasifika carpet of layered vocals, electronica and keyboards over Posenai Mavaega's guitar.
Victoria Girling-Butcher, who tackles Standing Upright Here, studied under Ihimaera at Auckland University and admits it is the first time she has set someone else's lyrics.
"Perhaps they're more literal than I would have done myself," she muses, "although the language is very visual. Personally, I'm a little bit more smoke and mirrors."
Ihimaera confesses he came to lyric writing as a novice. Yates rejected most of his initial efforts as "the kind of lyrics a novelist would write - and that wasn't a compliment".
For Yates, with an overview of the whole concept, it was a matter of "filling in the gaps so Witi could give us all the colours of the rainbow".
"I'd go to him and ask for a love poem, something short. Or tell him that we didn't have anything dark enough, because that's an aspect of his writing. Or can we have something more acerbic and abrasive."
The CD is kapai. Yates vouchsafes for all its tracks like a professional song-plugger, from Tim Arnold and Milan Borich of The Twinks offering Bar of Darting Glances as a song of gay assignation to Warren Maxwell's Don't Call Me Sir.
"I really loved Warren's approach to the foreshore and seabed issue in his song Home, Land and Sea," says Yates. "I'm pretty sure he'll do something with Witi's refusal of a knighthood that's not going to be too aggressive but retain its growly bite."
After Ihimaera has played its three Auckland gigs, Yates will be working on a Maori Channel documentary on the event and, she says, it is far too soon to be looking for another Kiwi writer to tribute.
"As soon as I finish the documentary, I'm going to have a cup and tea and a lie down," is her final reply, although I suspect there might be a poetry book on the bedside table.
Auckland Arts Festival
What: Ihimaera
Where and when: Auckland Town Hall, Thursday at 8pm; Genesis Energy Theatre, TelstraClear Pacific Events Centre, Manukau, Friday and Saturday at 8pm