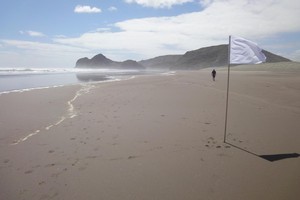 Mexican artist Hector Zamora was due to unveil a new sculpture at Christchurch's 6th Scape Biennial next week, but it has been cancelled because of the earthquake.
Instead, as part of the Auckland Arts Festival, he will create a work today on Bethells Beach, with members of the public invited to join him in planting 500 white flags into the sand for the afternoon. Planting of the flags will begin at 11am.
Zamora, based in Sao Paulo, Brazil, describes the flags as "a gesture towards a complex history of public actions and engagement with land, foreshore and public space in New Zealand".
More simply, the sight of 500 white flags flapping in the breeze should make a spectacular sight.
At 5pm the flags will be removed and taken back to the city for an installation in Shed 6, 90 Wellesley St West, from March 2-18. A film documenting the day and the installation will be shown at Elam's Projectspace B431 from March 3-19.
If it is raining today, the flag planting will move to tomorrow; check Zamora's page on aucklandfestival.co.nz for any change to the schedule.
Zamora will also discuss his practice with curator Ariane Craig-Smith, Elam Lecture Theatre, Elam School of Fine Arts, on Wednesday at 6pm as part of the Easy Listening series, a collaboration between Elam Artspace and Auckland Art Gallery.
* Arts Festival guests Bolivian theatre company Teatro de los Andes have offered to bring their play In a Yellow Sun instead of La Odisea, scheduled to open on March 8 at the Maidment Theatre as a tribute to Christchurch.
In a Yellow Sun tells the story of the 1998 Bolivian earthquake and its impact on the affected people and communities.
Although festival organisers say it's not practical to change the programme at this stage, the offer is a reminder of "the importance of storytelling and the arts in understanding and processing these sorts of terrible disasters".