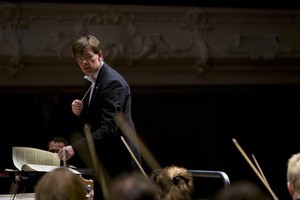 With our country's collective soul wrenched by the sufferings, public and personal, of Christchurch, it was timely for Eckehard Stier to launch Auckland Philharmonia Orchestra's Thursday concert with a noble salute to the citizens of Christchurch.
Bach's Erbarme Dich from his St Matthew Passion, with Dimitri Atanassov's violin and Martin Lee's cor anglais proved the perfect musical balm.
Some melancholy lingered in the moody opening pages of Milhaud's La Creation du Monde. Yet much of this ground-breaking 1923 piece is more like a cheeky take on Stravinsky's Sacre.
After the muted pastel of Milhaud's closing bars, Leonard Bernstein's Symphonic Suite from On the Waterfront burst into full Panavision technicolour. The players fired out rhythms that made you feel the Sharks and Jets might be about to come on stage for a rumble. Inspired by an exultant Stier, soaring climaxes became, in the best sense of the cliche, pure Hollywood.
I felt mild disappointment when Ewa Kupiec used a printed score for Rachmaninov's Rhapsody on a Theme by Paganini, but this didn't hamper a sleek and deft account of the work. Perhaps more could have been made of the shifting moods in the sixth variation, but, en route to some particularly scintillating, virtuoso playing, the Polish pianist's subtle handling of the 12th variation's minuet, disguised as a Viennese waltz, was breathtaking.
George Gershwin once described himself as a man with a lot of talent and plenty of chutzpah. Both were evident when the APO took on his 1928 An American in Paris.
Soaking up everything around him from ragtime to Ravel, Gershwin created a brash, brilliant symphonic poem. Its vibrant restlessness, never settling in one groove for more than a few seconds, becomes its prime virtue. Stier and his musicians caught this Jazz Age vitality, peaking in Brent Grapes' magnificent trumpet solos.