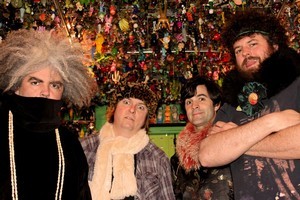 K Rd's Whammy Bar has hosted more than its share of full and sweaty nights over the last few years, a bit of communal congestion being something that regulars of this underground live music institution never seem to mind too much.
Finding Whammy's already small live room shrunken further by an extended stage and the pessimistic presence of crowd barriers for the international acts suggested things were going to get pretty uncomfortable, with enthusiasm running high after Melvins and High On Fire packed out the Kings Arms a week back and Kylesa turned up in town on the back of a bunch of hype.

Early respite was offered by the Wine Cellar where Wellington's Beastwars made full use of a living room-like space more used to hosting twee and folky carry on.
It may have been strange to watch their stoner metal leanings from a couch a metre away from the band, but it is easy to recommend seeing them next time they're in town.

Technically Whammy Bar gave fans a chance to see the internationals in a much more intimate space than they would normally get the chance to, but with sightlines the way they are in the basement fans had to rely on their ears.
Not such a good thing for Kylesa, who under-whelmed with a performance that was flat, a bit grumpy, and with a twin drummer schtick that came across as pointless (the less said of their unasked-for drum circle encore the better).

Melvins on the other hand delivered a devastating lesson in how to push the boundaries of a traditional rock n roll setup and justified every bit of drumkit littering the stage.
Compelling for their all-too-short performance they had jaws dropping, heads nodding and grins forming throughout the packed room.

They were the act most punters were for, and while a couple of crowd members were heard grumbling about the performance being a repeat of the Kings Arms show it was High On Fire who really copped it, left with a small crowd in what was by the that stage the early hours of the morning.
Not fazed, they pulled out a long set and by the time the show wrapped up Whammy had been on the receiving end of its most punishing onslaught for some time.