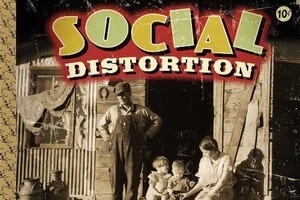 Rating: 4/5
Verdict: An implosion of influences force-fed turpentine wine and turned up loud
Standing between metal-edge country-rock and dishevelled Keith Richards riff-hard rock 'n' roll blues, Social Distortion don't exactly reinvent the wheel, but they do enjoy burning rubber on this 11-song set which invites you to roll down the window, rack up the volume and point the bonnet down a strip of empty highway.
For an American band they also have some of the swagger of Oasis, oddly enough - notably on California Hustle and Flow - but mostly this is taut, post-punk rock 'n' roll which enjoys its outlaw position (Diamond in the Rough which is like early John Mellencamp with a bad attitude) and main man Mike Ness gets into hardcore lock 'n' load on his guitar.
A lot of reference points here if they are new to you: think a post-teen Springsteen with an air of desperation and wired up on substances (Writing on the Wall); Rob Zombie if he'd been brought up on country rock not horror movies (the thrilling Machine Gun Blues); classic power-pop turned up and wearing motorcycle leathers (Far Side of Nowhere) ...
Ness is on record as saying this is a return to the brattiness of late 70s punk (he mentions Johnny Thunders) and that is certainly part of the contract here too - but mostly this is fuel-injected classic rock with a country twist, best turned up to 11 out on the open road.
- TimeOut / elsewhere.co.nz