Dance act the Chemical Brothers will bring music from all their albums, spanning 15 years, when they play at the Vector Arena next month. The "normal" one, Ed Simons, talks to Scott Kara.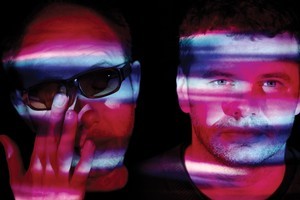 The Chemical Brothers were dismissed as a "big beat" act many years ago. It was that reasonably short-lived genre of dance music from the mid-90s that made Fatboy Slim famous too.
The thing is, says Ed Simons - the more normal looking half of the Chemical Brothers - "It's a sound we always remained proud of."
And the duo's two best albums, 1995 debut Exit Planet Dust and 1997's Dig Your Own Hole, still sound pretty good - timeless even - in the realm of dance music.
When they return to New Zealand for a show at Vector Arena on March 2 Simons says they will be playing songs from all seven of their albums.
"Including the first album which is quite old now," he chuckles dryly down the phone from his home in London. Which hopefully means they will be playing tracks like the classic Song to the Siren and galactic banger In Dust We Trust.
"We always used to just play them [the early songs] quite quickly, or slip them into an encore, but now they've become more integrated with the music that we still make - and there's no great gap.
"I think that sound is still in our music now and so it doesn't sound out of place when its thrown together - and there's a cohesion, even though the music we've made has been made over quite a long period of time now."
The Chemical Brothers - the other brother is Tom Rowlands - were last here in 2008 on the back of We Are the Night, an album that had elements of psychedelia and krautrock and dispensed with the constraints and conventions of dance music they had held on to for so long.
Latest album, Further, takes that, well, further again; this sonic and psychedelic exploration was conceived as an album they would play live in its entirety. "We wanted to explore that kind of floaty field, but that still had groove and movement to it."
They also didn't use any guest vocalists this time round and "filled the spaces with the strange visual side of the song tied in." By that he means the fact every song had its own video-cum-film.
It showed that, even after nearly 20 years making music, the Chemical Brothers are still keen to push dance music to the extreme. Often, like on the clattery and challenging K+D+B, it's not easy to listen to, but elsewhere there are intriguing tracks like the minimal ambience of Wonders of the Deep, the extreme static nature of opener Snow, and 11-minute epic Escape Velocity.
"There was just no desire to turn it off," laughs Simons. "It's just the fun of doing it and the joy of making things. And we do like working together and being in the studio that makes us excited. And I suppose there must be some element of showing off to it," he laughs.
The latter is an important part of the Chemical Brothers' success, because they are about entertaining the crowd - that's what superstar DJs do.
"We still recognise the joy of other people's joy and creating that transcendent experience where people are brought out of themselves. The two of us, that's what we like about going out, that communal joy, and the realisation about how powerful music can be and how it can change peoples' moods."
Going out clubbing and buying new records was how Simons and Rowlands bonded in the early 90s. They were first noticed when influential London DJ Andy Weatherall started playing Song To The Siren, and from there they became two of dance music's biggest stars thanks to Dig Your Own Hole.
In the last year it's as if they've settled down a little, having released Further and playing only a handful of shows - doing Further from start to finish.
Their most recent musical project has been the film score for upcoming action thriller Hanna, and they also contributed the track Don't Think to the soundtrack for Black Swan. Simons isn't letting on too much about Hanna, which stars Cate Blanchett and Eric Bana, except to say it's really good, although his lack of enthusiasm might have something to do with the fact he's watched it "30 times, or something".
"We've been pretty happy burying ourselves away for a couple of years making these big statements [albums], and then going out on tour. But then this film idea came along, and it was put in front of us just at the right time."
LOWDOWN
Who: Chemical Brothers
Where & when: Vector Arena, March 2
Latest album: Further, out now
Essential albums: Exit Planet Dust (1995); Dig Your Own Hole (1997); Come With Us (2002)
- TimeOut