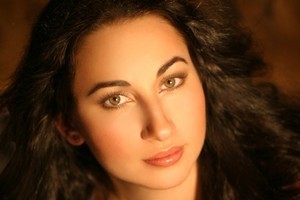 Friday night drinks? Meet me at:
It's always nice to meet a few friends after work at the Opera Bar on Circular Quay when I'm working at the Sydney Opera House.
Where I'll be wearing my new:
Black cocktail dress by Covers that I picked up on sale at Marina Mirage on the Gold Coast over the Christmas period - love a good bargain!
And this weekend I'm planning on:
Drifting down the current of Narrabeen Lake on my back into the ocean.
But first I'll need to refuel at my favourite cafe:
A local cafe called Favourite Things - it has a quaint selection of vintage homewares and great coffee that is roasted in Sydney by Toby's Estate.
Saturday evening. If my dreams came true there would be a gig by:
Renata Scotto in her prime. She is such an amazing interpreter of my favourite composers, Puccini and Verdi.
But if there's nothing else doing I'll probably just:
Have a barbecue with my hubby and close friends overlooking Collaroy Beach.
On my stereo/headphones right now is:
I listen to a lot of relaxation music by Alberto and Kimberly Rivera and Joshua Mills.
The books I can't put down are:
Often I'll read a novel or play that will help me prepare for a particular role that I'm working on. Recently I made my debut with Opera Australia as the Countess in The Marriage of Figaro and really got into Antonia Fraser's Marie Antoinette, and of course the Beaumarchais plays of The Barber of Seville and The Marriage of Figaro.
The TV show I take the phone off the hook for:
This might sound weird but we don't own a TV.
The movie I've been dying to see:
The King's Speech
A non-cooking Monday night means takeaways from:
A local place called Stella Italians. They have the most authentic Italian wood-fired pizza in the area.
Or a splash-out Wednesday night restaurant would be:
Limani Seafood Restaurant on the water's edge of the Narrabeen Lagoon where my husband and I love to order the seafood platter for two (which really feeds close to four people) and a bottle of sauvignon blanc, preferably from the Marlborough region of New Zealand.
Amy Wilkinson sings the role of Atalanta in the NBR New Zealand Opera's production of Xerxes, which opens in Auckland on Wednesday March 2. See www.nzopera.com for more information.