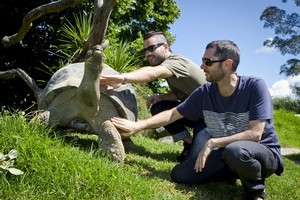 FILM
New Zealand directors take care of the romantic comedies this week with Love Birds and Curry Munchers released today. Hilary Swank pulls out a gritty performance in the harrowing based-on-a-true-story film Conviction, while the National Theatre of London's King Lear makes it to cinemas in what reviewer Peter Calder says is the finest production of a Shakespearean tragedy he has seen.
And, on a political note, there's a screening of imprisoned Iranian director Jafar Panahi's film Offside at the Rialto on Sunday night, with donations going towards the campaign to free him. He was locked up for making an "anti-government" film about the presidential election in 2009.
TV
Yes, the 83rd Academy Awards are on this week and Sky Movies is screening the event live on Monday. Red carpet arrivals start at 1pm and the ceremony starts at 2.30pm.
Mad Men also makes its highly anticipated return to Prime on Sunday night, and the factually inclined might be interested to know that Sky is launching BBC Knowledge on March 1, replacing the Documentary Channel and TVNZ is merging its public service Freeview channels TVNZ 6 and 7 to one big TVNZ 7, which will now be located on Sky 77.
MUSIC
Sing Sweet Caroline with Neil Diamond himself - he plays on Saturday and Monday nights at Vector Arena; the Chemical Brothers will rattle the place on Wednesday night. On the local front, Stan Walker tugs heartstrings at the Town Hall on Friday while Shapeshifter pounds the Powerstation through the weekend and Anna Coddington serenades the Dogs Bollix on Saturday. Or pack a picnic and listen to Sola Rosa take on the sounds of the wild at the Auckland Zoo on Saturday.
OR...
Slap on some sunscreen and head to one of Auckland's parks to relish in free entertainment. The Auckland Fringe has Shake and Bake in Ponsonby's Western Park on Saturday and the cardboard Box War in Myers Park from 2pm, while An Emerald City play in the Domain for Music in Parks on Sunday.