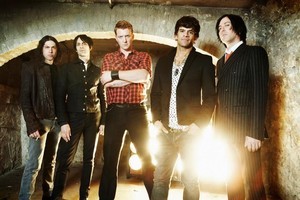 There's something special about playing the first song off your first album as the opening number at a concert. It takes you right back to where it all began.
And from the opening hit of Regular John's fuzzy guitar groove, it was time to get shaking and sweating because Queens of the Stone Age make rock'n'roll music you can dance to. They always have. On their first album, from 1998, band leader Josh Homme came up with the template for the band's sound - heavy and muscular, like his former band Kyuss, but more melodic, dancey, and boogie woogie-minded.
A few of these early songs got an airing last night - the swinging cosmic-rock slop of How To Handle a Rope and the slow mangled love song Walkin' On the Sidewalks (with an extended bludgeoning outro that was a good chance to have a breather).
But it's not just about their first album - reissued this week - because Homme and the lads played whatever they felt like.
They took in Rated R's sing-along hit The Lost Art of Keeping a Secret with Homme's sweet and saucy falsetto soaring, a frantic Go With The Flow and an unhinged No One Knows, and newer songs like the seething Battery Acid, the poppy squall of Sick Sick Sick and the harrowing stomp of Burn the Witch.
Earlier, Kiwi two-piece Cairo Knife Fight turned the venue into a swirling kaleidoscope of psyche rock conjured up by two mad magicians. But even they admitted they were here to see Queens.
And there was a fair amount of demented musical magic to the QOTSA's 80-minute set, too. But it was too short. Far too short, because they had the tunes - like Mexicola and Feelgood Hit of Summer, for example - to keep going. Maybe it was the technical difficulties Homme kept harping on about that stopped them.
Still, they confirmed themselves as the best rock band of the past 20 years.
Their music is unique, clever, beautifully twisted and, most importantly, rides that heavy danceable groove that few rock bands can find.
And this show was the "feelgood hit of summer", no question. Or in Homme's words: "The night we sweated our arses off together."