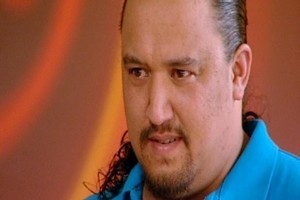 Oh, we are going to feel love in this season of Masterchef. And a fair bit of passion. We may even get to see some really, really good food, which would make a refreshing change.
Judges Simon Gault and Ray McVinnie seem surprised that more good cooks have emerged for season two of the show-that-grew.
"It's gonna be a ripper," declares Simon, while the corners of Ray's lips move - just a tiny bit - upwards. Celebrity dish Josh Emmett gets more than his fair share of hugs and kisses from delighted women who make the cut into the Top 25.
There are heartfelt declarations all around of "best dish I've tasted" and "I'd have that in my restaurant tomorrow".
One of the Top 25 promises there won't be a "chippy dippy" in sight; another assured us her dish would "make you smile and probably make you want to dance".
Josh - so far - seems kinder than his famously fiery boss, but wannabes are sent packing if their food is "too much home cook" or "nice at home on a Sunday night".
You've got to love the parting shot from a rejected triallist whose friends love her food.
There are some odd moments of hyperbole ("food is more than just what you eat", "cooking is my gift"), but gratifyingly, we get less dripping sweat and tears and more of the knife work and cooking of some really interesting food.
Round one narrows the hundreds of hopefuls down to the lucky 25 who next week plunge into the harrowing elimination to 12.
One golden boy, Michael from Rangitoto College, is so "out-bloody-standing" he gets to skip this pain and makes it straight through to the magic 12. This high school lad will be the one to watch. Forgetting the key ingredient, he sprints to the supermarket, puts on a pressure-cooker show (it nearly popped its lid) yet manages to produce the dish of the night: a braised sliced beef that was tender and perfect.
Trend of the show? That has to be cooks following the Al Brown lead, hunting and shooting and fishing for their main ingredient.
Rochelle's sensational stuffed flounder or Clement's venison backstrap with sweet potato rosti made me want to lick the TV; there was the lass who nonchalantly mentioned she'd shot the rabbit and grown her own watercress.
Offal is always a great divider between men and boys. Here's hoping brains are a one-off. Simon managed to get The Vego to eat some (he made it into the next round, but I suspect it is for story - rather than food - value) and Alex from Remuera to recreate her grandpa Arthur's brains pancakes (let's see if that takes off on the Ponsonby Rd brunch strip).
For those of you not watching for the food, there are some fabulous reality show gifts that will surely be milked. Carmen and Fiona are back for second tries but here's hoping we don't get too many saccharine references to dear departed dad, and I'm dying to see if Fiona will manage to keep up matching her lipstick to her wardrobe as the heat goes on.
With a Jamaican cockney, a Tibetan monk, a chirpy thing from Mauritius, an Asian-fusion dietitian and Bruno from Brazil, we are sure going to see some great variations on what good New Zealand cuisine has to offer these days. No one will be allowed to screw with the spuds, leave the lentils crunchy or make pasta with milk and butter. We will all feel the love, and maybe get Ray dancing by the end.