Hugh Sundae's weekly blog on series two of Masterchef New Zealand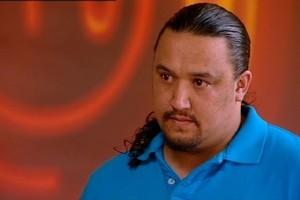 So last year's Masterchef contestants weren't so good after all - the judges said so.
"Last year, it might have got through, that dish."
Those of us who watched Masterchef Australia the year before already knew the Kiwis weren't up to it.
But it was better, from a viewing point of view, to stop comparing the locals to Australians like Chris Badenoch, Poh Ling Yeow and Julia Jenkins, and to simply judge the Kiwis against other Kiwis.
Tonight though, the judges continuously reminded us how much better this year's batch were.
Of course, that's great - not so much for last year's contestants who probably watched a bit miffed - but for those who love to cook.
Personally, I loathe most competition based reality shows, but I see watching the various Masterchefs as homework.
It wasn't always that way. Living in the UK a few years back I became obsessed by the British Masterchef, only to be horrified that the Australians had given the no-frills purist format the boot.
Replacing it with dramatic music, long pauses, elimination voting, and a host who was clearly superfluous (who was dropped before season two for that very reason).
However, the shock and awe campaign - 5pm, 5 nights a week - worked, and I soon saw past the long pauses and was addicted.
The first episode or two in these kinds of shows is always a drag.
Crowds of hopefuls dropping their self respect as their hands go in the air. "Masterchef!"
Fascinating nuggets of insight from those lining up for their chance to try out. "I definitely have what it takes".
Judges trying to invent crazy new ways of saying you're in. "You have family here? You better bring them in". Or you're out. "Last year you would have made it in, but this year the standard...".
Luckily this season's debut had an advantage - Josh Emett.

Emett oozes charisma. Ross Burden oozed. In fact replacing that doofus has actually made the other two judges appear far more watchable.
Perhaps Simon Gault and Ray McVinnie are less inclined to spout pointless throw-away lines when there is a real chef in the room.
I don't mean to sound harsh, I have respect for Gault (we share a love of aviation) and McVinnie, whose recipes I use regularly. But this is television, and just as their job is to be completely honest about the food, we're entitled to comment on their performance.
Episode one also had another secret weapon. Cameron Petley. While some hopefuls try to cut through the rest with I'm-good-for-telly lines or bore us with dreams of showing kids it's ok to be healthy, Cameron, "the hunter from the heartland", takes us hunting for pigs.
"My wife wasn't too happy with it but I found a way around it, and started taking her with me."
Pedley gives me faith in this season. A man among men who clearly knows his food and cares about it. Getting teary didn't hurt either.
"Does your wife cook?, Gault asks, going for the set up.
"She ain't too good at it, I must admit."
"Is she here?! You better bring her in...."
Episode 1
Best line: "Takeaways" - Ray McVinnie
Worst line: "It's a dish that talks the walk" - Simon Gault
Current favourites: Cameron Petley/Michael Lee/Jampa Stuart