We round up some of the events taking place today and tomorrow.
Auckland Lantern Festival, Albert Park, today and tomorrow 5pm-10.30pm. Free.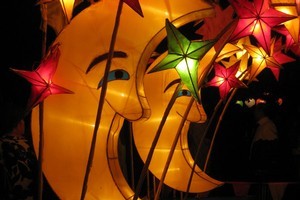 Admire the stunning and ever-growing display of Chinese New Year lanterns, enjoy entertainment from Shanghai jazz and contemporary bands, the Chengdu Puppetry Theatre and more, as well as delicious food at the 12th annual Auckland Lantern Festival.
Wugang Youth Performing Art Group from Hubei Province, China, today, 7.30pm-9.30pm, Bruce Mason Centre, Takapuna, adults $30, children $15. See ticketmaster.co.nz.
Watch stunning costumes, music and dance performances at a concert by the international Wugang Youth Performing Art Group, a gloriously colourful display.
Open-air movies, Auckland Business School, John Hood Plaza, Owen G. Glenn Building, today and tomorrow, 8.30pm. Free.
Bring beanbags and cushions to the plaza of University of Auckland Business School for a free open-air festival of popular Chinese-themed movies - comedy drama romance Shanghai Kiss and animated Kung Fu Panda.
BMW NZ Polo Open Fisher Field, Clevedon-Kawakawa Rd, tomorrow, 11am, final at 3pm. Tickets from $25.
Dress up for elegant on and off-field action in the bucolic surroundings of Fisher Field. Soak up the excitement, admire the ponies, sip bubbly and nibble on gourmet foods.
Estuary Artworks Uxbridge Creative Centre, Howick, until March 9. Free.
See how the 53 artists in the annual Estuary Artworks exhibition creatively respond to the Tamaki Estuary and its ecological condition.
Global Breakthrough Festival Until Sunday, at various locations around Mt Maunganui.
The Mount is holding its inaugural Global Breakthrough Festival with Kiwi artists Kora, Sola Rosa and Open Souls playing alongside local up-and-comers. The main event is at Baypark Stadium in Mt Maunganui today from 3pm to 9pm.
The Caravan, Boat and Dunny Derby Waikaraka Family Speedway, Neilson St, Onehunga, today, 6.45pm. Tickets from $10.
The funniest form of motorsport you will see all year, as the bane of every motorist gets smashed to pieces. Plus watch Holdens and Fords battle it out in the Streetstock 290s.