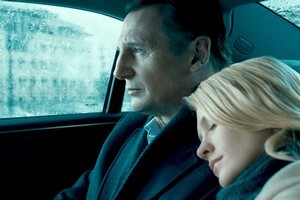 Last time Liam Neeson went on a violent romp around Europe he was desperately in search of his missing daughter in Taken. In Unknown he ups the ante, arriving in Berlin and promptly losing his wife, life and identity in this mystery thriller that mixes old school spies with modern day pyrotechnics.
We first meet Dr Martin Harris, along with his stiff blond trophy wife Elizabeth (Jones), as he's arriving in Berlin to speak at a biotechnology convention. At their hotel, Martin discovers he's left his briefcase at the airport and, when returning to retrieve it, is involved in a serious car accident. Waking from a coma he discovers his wife doesn't recognise him and another man (Aidan Quinn) has taken his place as her husband.
Filled with tension and paranoia, Berlin is the perfect setting for Harris to try to work out if he is who he believes he is, or whether he's going insane. Rather than doing the obvious and going to the American Embassy, he is assisted by an ex-Stasi agent Ernst Jurgen (Bruno Ganz), who reminisces fondly about the Cold War, and an illegal taxi driver Gina (Kruger).
Much like Jason Bourne in The Bourne Identity, he must also stay one step ahead of a couple
of mysterious assassins.
Unknown features well-shot action with plenty of hand-to-hand combat and full-on car chases, but it isn't as thrilling or fast moving as The Bourne Identity. With pauses in the action there's time to ponder the implausibility of the storyline. Martin and Gina leave dead bodies in apartments, steal taxis and cause carnage on the streets of Berlin, yet none of the local authorities show any interest in stopping them.
From the beginning, the performances in Unknown imply that people are not who they seem to be. This takes the edge off the final revelation as we've been trying to work out how the characters fit into this mystery from the beginning - we may not have known the answer, but it was very obvious there was one. The conclusion is also let down by the ease with which our protagonist accepts the truth about who he is. Unknown is best enjoyed as a slice of entertaining
action - just let go of the complexities.
LOWDOWN
Stars: 3/5
Cast: Diane Kruger, January Jones, Liam Neeson
Director: Jaume Collet-Serra
Running time: 113 mins
Rating: M (medium level violence)
Verdict: Full of plot holes, but a well-presented, action-filled jaunt around Berlin
-TimeOut