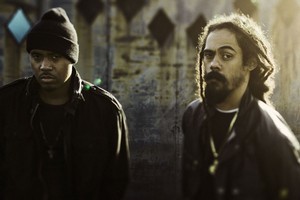 Damian Marley - the youngest son of Bob - is up there on stage dressed in black with his long dreads swinging serenely from side to side like a natty pendulum.
To his right there's Nas looking very much like the smooth New York rapper that he is with sun glasses on, a white shirt and khaki pants.
Their styles - both in a fashion sense and vocally - couldn't be more different, but together in concert, and with a hard-playing 10-piece funk band behind them, they make a fearsome pair.
Last year their collaborative album, Distant Relatives, fused reggae and hip-hop nicely, but live this fusion takes on a whole new, and far more impressive, level.
They've been touring together for a while now - and it shows. Marley and Nas are like old pals, and the rappers smooth yet staunch flow rubs along effortlessly with Marley's yabbering ragga and soaring reggae soul voice.
The band (including a flag bearer who waves the Rasta flag constantly for the entire two hour show) are tight with out being earnest, and even when it's as if they are about to fall apart on the more punishing tracks - like the pounding and fractured brutality of Dispear - they rein it in and nail the riddim back down.
The show is a mix of collaborative and solo sets, with Nas "striking like a cobra" on his lurching and bass heavy If I Ruled The World from 1996, and Marley dishing up the rebellious big band skank of Trouble (off his 1996 debut album), and the combative ragga of Move! (laced with Bob's Exodus), off 2005's Welcome To Jamrock.
And the tracks where they come together go off right from the start, with the bang and bounce of party starter As We Enter opening the show; then there's the more poignant and stripped back Patience (which beautifully samples blind Malian duo Amadou and Mariam); and best of all is Road To Zion with a rousing all-in crowd holler of "Jah will be waiting there".
If ever there was proof needed that New Zealand is a nation of reggae-loving and hip-hop-crazed fanatics, then this show is it with the baying masses singing along, waving their hands in the air, and nearly spilling off the balcony at times.
And Marley's dad's Could You Be Loved (spiked with a little Get Up, Stand Up), is an ideal end to a rowdy and righteous night.