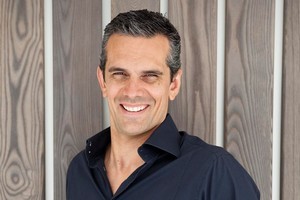 New Zealand cuisine has well and truly shrugged off its meat-and-three-veg past: that's the verdict from Gordon Ramsay's right-hand man.
Josh Emett, the Waikato-raised chef now in charge of Ramsay's restaurant in Melbourne, is the new judge on the second series of MasterChef New Zealand starting on Sunday night.
The 37-year-old was head chef at The Savoy Grill in London when it won its first Michelin star in more than 100 years of operation, but told the Herald he was impressed with what he found back home.
"There are some really good restaurants out there doing really interesting things and they're moving in the right direction.
"Which is what I think for New Zealand - it's extremely seasonal and very local," he said.
"If you travelled your way down New Zealand there's great things going on in little hidden places all over the country ... I had some barbecued crayfish on the weekend which was absolutely sensational.
"Those sorts of products are literally just sitting there on our doorstep."
TV One has moved MasterChef to the prime time of 8.30pm on Sunday after it pulled in more than 1.1 million viewers last series.
More than 1000 amateur cooks from around the country were interviewed by a panel of experts and had their cooking tasted. That number will be whittled down to 25, then a final 12 will be chosen.
The last chef standing will win more than $100,000 of prizes, and a likely career change - previous winner Brett McGregor quit his job as a deputy principal to concentrate on book deals and a restaurant consultancy.
Mr Emett has about 50 chefs working under him at Maze and Maze Grill in Melbourne, and said the pressure the contestants were under was comparable to any restaurant kitchen.
"They just get it from all angles. They know they're being filmed. And they know they're there to win a competition, so there's literally nowhere to hide."
While most contestants created good food, it was just as interesting when that did not happen.
"If they can't cope under pressure and short time frames, they've got no chance."
Mr Emett said while he was not as confrontational as his mentor Ramsay, he had no problem criticising a poor dish.
"There are people that you think it would be good if they won and then all of a sudden it's like, 'Oh no, what did you do there and why have you done that?"