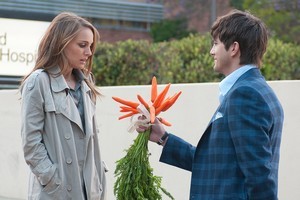 Natalie Portman and Ashton Kutcher star in this lightweight and semi-raunchy romance from director and comedy veteran Ivan Reitman (Ghostbusters, Kindergarten Cop).
Though it starts out slightly wacky and crude No Strings Attached fast becomes a predictable, cute romantic comedy, but thanks to Reitman's feel for comic timing, a fast pace, and great cast chemistry, what is really a frivolous diversion is much more enjoyable than perhaps it deserves to be.
Childhood friends, Emma (Portman) and Adam (Kutcher) have run into each other a few times since Emma shot down Adam's rather crass sexual advances at summer camp years earlier, but when they become reacquainted living in Los Angeles they decide to hook up as "friends with benefits".
The film poses the question, can you have sex with your best friend and remain just friends? We know this kind of situation is unlikely to end well, but to spice up an obvious storyline Emma is the sexually aggressive character.
A brilliant young doctor with no interest in commitment or romantic complications in her life, she's the one who decides their relationship should be purely based on sex.
No Strings Attached is the complete opposite of Natalie Portman's other film in circulation, Black Swan.
This one won't attract any award nominations, and the role is hardly a challenge for Portman, but she treats it with respect and a naughty twinkle in her eye as she adds a touch of class with a charming performance.
What is a surprise is that Ashton Kutcher is very tolerable as well, and the chemistry he has with Portman is obvious.
Adam is supposed to be the good-looking goofy guy you'd have a fling with but never contemplate marrying, but he blows that idea out the window by being a nice, romantic and quietly ambitious guy.
Add to the leads a couple of scene stealing sidekicks, Adam and Emma's room-mates, Eli (Jake M. Johnson) and Patrice (Greta Gerwig)
and this rom-com even delivers on one or two good laughs.
No Strings Attached doesn't reinvent the genre, but it does go some way to making it refreshingly entertaining.
LOWDOWN
Stars: 3/5
Cast: Natalie Portman, Ashton Kutcher
Director: Ivan Reitman
Running time: 110 mins
Rating: R16 (Drug use, sex scenes and offensive language)
Verdict: Natalie Portman adds a touch of class to this formulaic rom-com.
-TimeOut