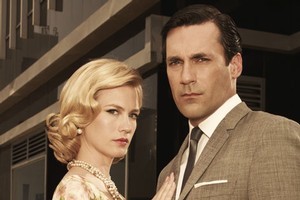 It's Thanksgiving of 1964 when the new series of Mad Men resumes on Prime on February 27 - and just like his home life, Don Draper's (Jon Hamm) professional life seems to be on shaky ground.
At the end of last season, he and Betty (January Jones) began filing for divorce, and to avoid a major fight, he decided to move out of the marital home. Meanwhile Betty flew to Reno with Henry and the baby to prepare for the divorce.
Don had enough to distract him on the professional front, as he Roger, Bert and Lane decided to work as equal partners to form a new company Sterling Cooper Draper Pryce. Peggy, Joan, Pete, and Harry Crane were recruited to move with them.
When the series returns for its fourth season, the agency is ready to take on new clients, but the business meetings are not running as smoothly as the partners had hoped. The company enters talks with a potential client, Jantzen swimwear, who are pushing their new range of bikinis - selling much faster than the regular two-piece - but the meeting reveals too much about the company and its small premises.
And things aren't helped when Don stumbles over his answer to a clever reporter's question - who is Don Draper?
LOWDOWN
What: Mad Men, returns
When: Feb 27, 10.45pm, Prime
-TimeOut