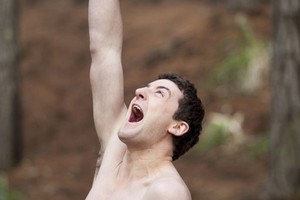 SO you're a TV exec and a couple of writers, well-known writers, walk into your office, settle on the couch by the window, each say "a flat white, please", and then start pitching you an idea for a new show.
"Well it's about these four brothers," says the first writer.
"They live in Auckland," says the second.
"Normal family," continues the first, "usual ups and downs, usual tensions. One of them is a bit anal, one's a ladies man, one's kinda cold and the youngest is a doofus. So they're normal brothers, right, except for one thing ..."
"They're Norse gods," says the second, coughing slightly.
"Norse what?" you ask brightly.
"Gods," they chime.
"Ye gods!" you splutter.
And all I can say is this: whatever was said, it must have been a hell of meeting when the creators of the award-winning and much-loved Outrageous Fortune, writers James Griffin and Rachel Lang, walked into the offices of South Pacific Pictures and first pitched the idea for their Next Big Thing, The Almighty Johnsons (Mondays, 9.30 pm, TV3).
To say that the premise of the Johnsons is a bit mad, is to say they know a bit about street parties in Cairo. This thing is bonkers. Happily though, it's good bonkers.
For a start these four brothers are pretty crap sort of Norse gods. For convoluted reasons, which are much too convoluted to go into here, their powers are weak. The eldest Mike (a stern Tim Balme) is quite good at games but doesn't want to play at being a god, crap or otherwise. Ty (Jared Turner) is some sort of god of cold, so he fixes fridges, natch. Anders (a pleasingly creepy Dean O'Gorman) is a god of poetry and a man of sleaze, so he works in PR, while the youngest, Axl (a goofy Emmett Skilton), is a student who turned 21 in last week's first episode - which managed to force an awful lot of set-up, expository dialogue and laughs into an hour.
The fast version is this: Axl was forced to get naked in a forest, was hit by lightning while holding a sword, was informed by his bros that he's probably a god-of-all-gods called Odin, and was told that his mother didn't die in a tramping accident after all but actually wandered off into the bush to, ahem, become a tree.
The upshot is that Axl's mission is to find a goddess called Frig - yes, Frig - which is something that the so-far mysterious and estranged Norse goddesses want (for, as yet, reasons unknown) to stop. If Axl finds Frig, the bros get all their powers back. If he fails, they all die.
It's all very complicated already and it makes me tired just thinking about it. So it's fortunate the script buzzes with all sorts of silliness and the thing as a whole is not taking itself seriously at all.
And it turns out its pitch is quite clever, in a knowing sort of way. Intentionally or not, it draws together two local hits: the camp and silly pseudo-mythology of that landmark in silly, pseudo-mythological telly, Xena, with the unpretentious, down-home NewZildness of Outrageous Fortune. It taps into, too, the cartoony superhero stuff of something like Heroes, but with jokers whose humour runs to The Crowd Goes Wild.
It is also plays with male, or least teenage male, fantasies: having superpowers, having to sleep (as Axl now must) with as many women as possible, having a reason to feel you're better (but sometimes worse) than everyone else, having a sense of humour.
And, much as Outrageous was able to convince viewers they should fall in love with the Wests even though they were a bunch of crims, the Johnsons clearly hopes to use kitchen sink family drama to ground its mad premise in some kind of relatable reality. There are cracker one-liners, too: "For a god of poetry, you're a crude prick".
I can't say whether I'll move in permanently with the Johnsons. But I can say, on the strength of the first two episodes, that I might. Or should that be almighty?
-TimeOut