In the beginning there was Kyuss, and then came Queens of the Stone Age. Scott Kara talks to the leaders of both bands about their respective nostalgia trips and tours Downunder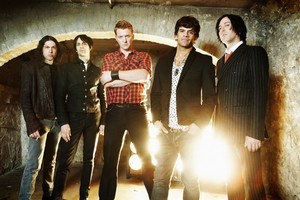 For someone who doesn't do nostalgia, Josh Homme is having a jolly old time reminiscing about how he wanted to make "trance rock 'n' roll for girls" when he started Queens of the Stone Age in the mid-90s.
"I wanted to create an environment where everyone could let their hair down - and one that wasn't so 'dudecentric'," he chuckles on the phone from his home in Los Angeles.
"I guess for me what the guys want is of little consequence because once the girls start dancing who cares what the guys want to do?"
Well put. And it was on Queens' 1998 self-titled debut - the one with the chick in bikini bottoms on the cover and not to be mistaken for second album Rated R - that set the template for Homme's distinct future sound, one that is melodic and sweet but twisted and heavy all in one.
"For me," he says "[opening track] Regular John is the perfect song to introduce a new band. It was a tranceable, danceable, heavy music, and then the vocal comes in and the idea was to make you go, 'What? What is going on here?"'
The album is being reissued next week, just in time for QOTSA's three shows in New Zealand including the Logan Campbell Centre on Monday. But playing songs off the first Queens' album, and revisiting tracks like Mexicola (about a fraught trip to Mexico when he was a "smart arse" 19-year-old) and the riotous groove of How to Handle a Rope is a bold move for Homme who has never been one to look back.
"But frankly the album has been out of print for so long and, not to be Captain Obvious or anything," he laughs, "but it is the record that started it all and it's just feels really cool to play, and rehearsing the songs feels really awesome." You get the feeling Homme also thinks the album was under-appreciated at the time and this is a chance to give it its due.
Following the demise in 1995 of Kyuss, a band he founded with John Garcia, Homme had a break from playing music, and even thought about quitting all together.
But living in Seattle at the time he started writing songs inspired by 50s-era Warner Bros cartoons.
"Where robots come out of walls and clean your floors and they progressively destroy the house. I basically started playing my version of what that was. And then I took every penny I had and spent it on the record."
Homme wanted to break free from the rules and regulations set down by Kyuss and is a believer in "making your own soundtrack in life".
"And I wanted mine to be a combination of dark stroll, meets this guy is going to get thrown out of this place, meets I love you."
He's quick to point out that he loved being in Kyuss and is proud of the band's legacy, but would never consider joining their reunion line-up.
"I'm into what it is, not what it was. My memory of it is really really special and I'm happy with that.
"I think playing [Queens'] first record from start to finish is about as far back as I'm willing to go."
LOWDOWN
Who: Josh Homme, Queens of the Stone Age; John Garcia, Kyuss
On tour: Queens of the Stone Age, Logan Campbell Centre, Monday; Kyuss, Powerstation, May 14
Key albums: Queens of the Stone Age: Queens of the Stone Age (1998), Rated R (2000), Songs For the Deaf (2002), Era Vulgaris (2007); Kyuss: Blues For the Red Sun (1992), Welcome To Sky Valley (1994)
See also: Them Crooked Vultures - Them Crooked Vultures (2009)
-TimeOut