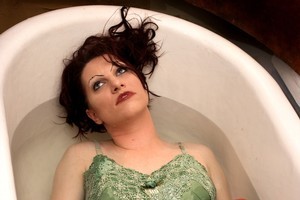 MUSIC
From hip-hop's Nas, reggae's Damian Marley, rock's Queens of the Stone Age and trip-hop's Tricky, there's still no rest for the gig goers among us this week.
As if those big names aren't enough, Amanda Palmer (pictured) brings her New Zealand and Australian-inspired songs to the Kings Arms on Wednesday - complete with the reference to Vegemite being like cancer on toast - and grunge group The Melvins play there on Saturday, with another show at Whammy on Wednesday.
TV
If you are looking for some more creative kitchen inspiration or just to back a new reality TV contestant you'll be pleased to know that MasterChef New Zealand is back on TV One this week and will complete the competitive Sunday night line-up.
Elsewhere, Keisha Castle Hughes - is she Axl's Frig on The Almighty Johnsons? - heads to Tanzania on Intrepid Journeys tonight and The Simpsons turns Harry Potter's Daniel Radcliffe and House's Hugh Laurie yellow when they voice characters on Sunday night's new episode.
MOVIES
Our cover star January Jones stars alongside Liam Neeson in mystery-thriller Unknown, which is out today along with James Cameron's latest underwater (3D) disaster flick Sanctum and the third comedy in the Big Momma series, Big Momma: Like Father Like Son.
It's also the Documentary Edge Festival meaning there are lots of enlightening films around the independent cinemas as well as the French Film Festival at the Academy and Devonport's Victoria Picture Palace.
And if you're after a bit of fresh air, the Movies in Parks series is also running - turn up with your rug and thermos or chilly bag, depending on your choice of beverage. Check moviesinparks.co.nz for more.
OR...
It's that time of year again. The wafts of drool-inducing aromas from the food stalls on Princes St will lure the masses to the Lantern Festival, a Chinese New Year celebration at Albert Park from tomorrow until Sunday. As if the karaoke stage doesn't take care of entertainment there will be a constant stream of performances by dance and theatre groups and fireworks on Sunday night. By now you should have learned that parking can be a nightmare so perhaps consider taking the bus or train, or parking further away and walking.
-TimeOut