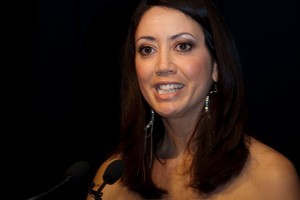 Despite telling a women's rag in a paid-for story that she would be leaving for Berlin last month to "live my life with courage and conviction", 37-year-old TVNZ star Miriama Kamo has not gone anywhere.
The woman who announced she wants "colour in my life" continues to live here, presumably drably.
Kamo, who resigned from her post as 20/20 presenter "to take stock of what I want to do with my career and my life", has generously been offered the coveted role to front TVNZ's Sunday programme following in the earnest loafers of Cameron Bennett.
Insiders tell me contract details have yet to be finalised and negotiations continue. Whether this is code for the-talent-is-requesting-too-much-remuneration-for-her-level-of-skills, we're not sure.
Kamo is nothing if not her biggest fan.
It is understood the Qantas Award winner will also be required to file several stories as well as host the show.
Nevertheless, signs that negotiations may be finalised is a mark that our favourite current affairs show will be back on screen soon. We can't get enough of juicy Janet McIntyre.
Maggie, forget that Rodney and focus on the other one
Joining the lemming-like surge of enthusiasm to see the back of fake bake fan Rodney Hide, a group of prominent media players strategised at that most salubrious of media institutions, Prego, last week.
"Why," they scoffed, "doesn't National run Maggie Barry in the garden state of Epsom?"
The acclaimed botanist, who failed to attain the seat of Botany, is on the look-out for another safe national stomping ground.
The former broadcaster has ruled out seeking the nomination for Rodney. But has she thought about the other one?
While Hide claws precariously to the leafy district of Epsom, Barry and the Nats should cast their eye over the constituents (and their gardens) for support. They could announce Barry's run at the paradise of Eden Gardens.
As Hide tries to distance himself from the debacle that is the Auckland Council's Maori Statutory Board, perhaps Tory insiders should wake up and smell the hydrangeas.
Man or mouse?
He may have won the blokes' vote for declaring his red-blooded passion for comely Liz Hurley, but loveable Tory moneybags John Key suffers from the rare macho condition musophobia.
That's an irrational fear of mice. "John hates mice," his confessed to a women's mag. "If the cat brings in a mouse I have to take care of it.
John does spiders and I do mice." Bless.
-Herald On Sunday / View