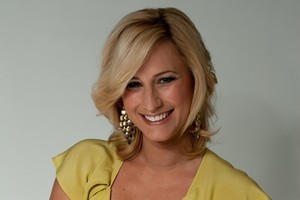 The country's men may rate her New Zealand's most desirable woman, but former Breakfast presenter Pippa Wetzell is feeling anything but.
Having recently given birth to her third child, Taj, and getting used to a much busier household, Wetzell says those who voted her the country's most attractive woman in a Colmar Brunton survey might rethink if they saw her right now.
"My husband [corporate lawyer Torrin Crowther] thinks it's hilarious. It is very flattering, but I see myself first thing in the morning and I am glad most people don't have to see me like that.
"I am just the same as anybody else - there is plenty of baby weight to go and you know everything has been knocked around a bit, so I am feeling anything but glamorous."
She is not enjoying breastfeeding in the high Auckland humidity and the family is "muddling our way through" the transition to three children. "People are right, the third one is easier but it is still about catching up on sleep and juggling."
But why Taj?
"We just loved the name Taj - there is an Australian surfer called Taj Burrow who Torrin has always been a fan of."
Taj joins sisters Cameron (21 months) and Brodie (4). With three children under five it hasn't left much time for Wetzell, 34, to miss work or catch up on how TV One's new Breakfast team of Petra Bagust and Corin Dann are going.
"To be honest I can't concentrate on the show to that degree because there are too many other demands on me right now, but it is always on in the background and when I hear something interesting I try and catch it ... I think they are brilliant.
"I mean, obviously - even when you are sitting next to someone on the couch - sometimes you think you would have asked a different question but a lot of the time you think, 'Oh, I wouldn't have asked that ... and that's a great question'."
She still has contact with former co-host Paul Henry who left the show after his controversial comments about the Governor-General. He is in the United States and they still share the odd text or phone call.
"I really miss him - I just miss hanging out with a good friend every morning. He is such a lovely friend and it was an easy friendship because we knew we got to spend 12 hours-plus a week together.
"So I feel I am missing out on what is happening in his life and filling him in on everything in my life - but that's good because when we do catch up there's a lot to talk about."
Fans can expect to see her back on screen at some stage. She has taken a year's maternity leave after 3 years on Breakfast.
"I'd like to know that my career with TVNZ is not over yet. I would love to [go back] but at the moment I can't even imagine going out for a meal, let alone anything else."
But it does seem a return to TV is the favoured option over a fourth child.
"I am scared I have said it too much that I might jinx myself - but this is pretty much it for us."